Are You Working in Full-Time Ministry?
Blog / Produced by The High Calling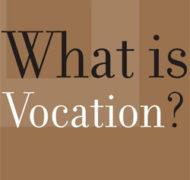 I'm about to talk with my friend Bob Robinson, founder and executive director of (re)integrate. As I often do before such meetings, I was reviewing Bob's work, his organization, his curriculum guide for understanding work, and his latest articles. I couldn't help but notice his recent post about What Is Vocation? by Stephen Nichols. After summarizing the book, Bob leads us to some foundational questions, ones that we continue to wrestle with here at The High Calling:
Can we establish in our minds the idea that God calls us to work? Can we begin to read our Bibles without medieval notions that the only "work for the Lord" is ministry-related (church, missions, evangelism)?

If so, we can hear God's calling to his people in a whole new, breathtaking way.