Baby's Got Down Syndrome, 1: Lunch at Pizza Hut
Blog / Produced by The High Calling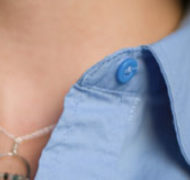 In my dream I am sitting in Pizza Hut because that is where I first saw her. She wanders over to my table with her big blue eyes locked on mine. She has curly brown hair... curls... rare for a child with Down syndrome. She holds her baby doll up and asks if they can sit with me.
"I don't want to be your mother," I blurt out.
She slides into the seat and looks at me with surprise.
"Why not?" she asks.
I suddenly feel guilty and defensive. "Ninety-two percent of mothers just like me don't want to be your mother," I answer foolishly.
"Why not?" She repeats her question.
"Well, because you are not as smart as other kids," I begin.
She cuts me off with a song, "a, b, c, d, e, f, g..." After it is over she continues, "Your shirt is blue. I know that and so I am too smart."
I thought she was four or five years old but now I see she has a gap where a bottom tooth has gone missing. This must make her more like six.
"I think you will cost more," I tell her.
As if she is reading my mind she says, "I don't wear diapers anymore. Those are for babies." To prove this fact, she lifts up her baby doll and shows me its diapered bottom.
"You might get sick."
"I already was sick," she answers. "See?" She says as she pulls her tee-shirt up over her face to reveal a faint scar running vertically down her whitish-pink chest.
"Did that hurt?" I wonder aloud.
"I don't remember. My dad says it hurt him real bad," she answers, her small voice muffled by the cotton shirt.
"Put your shirt down," I say, and she does.
"You might grow up to be ugly." I know this might hurt her feelings but I have to say it.
"All grown ups are pretty." She laughs. "Except for the boy ones. Some of them are stinky."
"I mean, you might drool or your tongue might protrude," I clarify.
She sticks her tongue out at me. "My tongue is pretty," she says, "and I only stick it out when I am tired."
"You might die." I feel bad saying this, but she needs to know the truth.
Her answer is soft. "If you won't be my mommy, I am already dead."
We eat in silence for a while. When my slice is finished, I tell her that I must be going now.
"Will I see you again?" she asks.
She has worn me down. "Yes," I tell her, "I think so."
Baby's Got Down Syndrome, 1: Lunch at Pizza Hut
Baby's Got Down Syndrome, 2: Crossing the NICU Styx
Baby's Got Down Syndrome, 3: Seeing in the Raw
Baby's Got Down Syndrome, 4: She Has My Legs
Image by Laura Taylor. Used with permission. Sourced via Flickr. Part one of a four-part series, this article is a reprint of a post by The Unknown Contributor.