Bono's Three Rules for Career Reinvention
Blog / Produced by The High Calling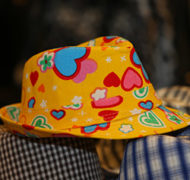 Just the other day I saw a photo of Bono, famed front man of Irish rock band U2, celebrating his 53rd birthday. Later this year, he'll have more reason to rejoice with the expected release of U2's 13th album.
Which made me wonder: How is it that U2, which formed in 1976, is not only still around but thriving long after all of its contemporaries—even REM—have left the building?
Much of the band's enduring success, I think, has to do with Bono's extraordinary skill at reinventing himself and his work—and therein exists a few valuable lessons for all of us as we seek to remain fulfilled in our own careers:
No. 1 – Remove your shades: Bono almost never takes off his sunglasses, but he's a master of stepping back and taking an unfiltered look at things. U2 catapulted to superstardom with The Joshua Tree, a spare, serious record driven by the band's passion for social activism. Just a few years later, it completely altered its sound with Achtung Baby, a slickly produced, loud, apolitical album. Some fans thought the band had sold out. I thought instead that its members had recognized a clear reality—The Joshua Tree was so good that U2 would never make a better album of that type. So it needed to challenge itself with something new and different. Similarly, have you mastered some of the fundamentals in your own work? If so, what can you do now to stretch yourself in new directions, even if it means leaving behind the security of a particular task that you do well?
No. 2 – Stay on your stage: U2 didn't simply give up music entirely and embark on a totally different career path. This was a talented group of musicians who enjoyed working together. There's no need to walk away from that merely for the sake of change. So the band stuck with its main skillset and looked for ways to reinvent itself in that context. We can do the same thing. Maybe you're really good at teaching or selling mattresses, but you're burned out on it. Does that mean you need to get out of education or business altogether? How can you creatively apply the skills and talents you already have in fresh ways?
No. 3 – Think like a rock star: Bono never seems to stop embracing new possibilities, even as his core work continues to be music. He's also morphed into an international advocate for debt relief, an entrepreneur who refurbished and co-owns a Dublin hotel, and a financier who launched a private equity firm and bought a stake in Facebook. Rather than distracting from his music career, these side pursuits seem to have infused him with more energy and ideas. Apart from your primary work, what other interests can you nourish? I make my living as a speechwriter and PR guy—but I've found that dabbling in journalism, essays, poetry—and yes, even blogging—keeps me inspired and challenged.
So, go ahead and think the way rock stars think in their endless pursuit of the next cool thing. And give Achtung Baby a listen. Like Bono, it keeps getting better with age.
Stephen Martin is a speechwriter and journalist who blogs at The Messy Quest. His book, The Messy Quest for Meaning, which explores how to find a calling, was published by Sorin Books.