Book Club: Thoughts on Home
Blog / Produced by The High Calling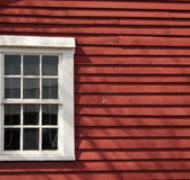 As we come to the end of our journey through The Spirit of Food: 34 Writers On Feasting and Fasting Toward God, it feels like we have traveled to faraway places and now breathe the contented sigh of the return home after a trip well-traveled.
In our two final essays, both Laura Bramon Good and Leslie Leyland Fields stir a longing for that rootedness that the family table represents. Good does this by contrasting the permanency of the memory of home with the fleeting nature of finding her own way.
There are two tables: the table of home and the table of far away. The table of home wears a soft white cloth; it bears a grid of bowls and scents, food piled high on crazed white china platters that Aunt Ida left in her farmhouse…The table of far away is in a yellow room where windows move. Sometimes light comes from the east, sometimes the south. There are bottles of wine and crates of beer and tureens of strange, spiced foods; there is the recklessness of wondering if I will fall in love…We will scatter from this table. We will never come back, because the table will disappear. (Laura Bramon Good, Banqueting Table)
In this brief yet moving essay, Good manages to evoke more than a yearning for the childhood home. She speaks to that eternal longing in all of us.
…But when I sipped that gold wine I saw, too, that God was a man who walked from table to table, crowd to crowd, always drinking, always eating, always seeking a lonely place. The hot taste on my lips and down my throat, a cord cut through the softness of my body. It was evensong, and walking home in the dark, I could feel each brick of the street beneath my feet. I could feel how strange it all was: to grow up , to grow away, to believe God was my bridegroom, and that time would end in a feast.
Leslie Leyland Fields' childhood dining experiences were less than divine, however. In her essay Making the Perfect Loaf of Bread, she wrestles with the memory of a hunger that seems to still haunt at times.
…After our lost meals, the lunches hidden in our dresser drawers, the small, bitter food on our plates, when we left our house, we did not know how to live where meat and casseroles and pie rain on every table, where, without even asking, and without stealing, the ground is littered with bread. Do we eat for this day only or for all the days we missed and might miss ahead? When a hunger is long and deep, how do we measure "enough"?
Yet, as Fields tells of the meals she prepares for her family, as she speaks of loving a young woman who would later take her own life, as she searches for the perfect loaf of bread…redemption is sliced up and covered with a generous pat of butter.
I look around this table now, the stroganoff and salads soon gone, the breadbasket already empty, and still we sit. I know we will need to eat again, all of us, that nothing I can make or buy will cure the body's wants for long, but look how filled we are! It is not my making that fills us. The work of my hands is undone without the sun on the wheat, the ones I love who come to eat, the one who fed us his body, his life.
And thus we complete our journey through this lovely feast of a book. I hope your spirit has been well fed. We will be taking a break from the book club through the Lenten season. Watch for an announcement soon about the next book we will be reading together.
If you would like to join in the conversation at your blog, please add your link below:
This the final installment of our book club discussion on The Spirit of Food: 34 Writers on Feasting and Fasting toward God, edited by Leslie Leyland Fields.
Photo by em ali used with permission via Flickr. Post by Laura Boggess, author of the Wings of Klaio series.