Books on Culture: The Life of the Body, week four
Blog / Produced by The High Calling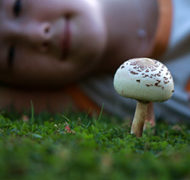 Our young niece trailed behind my husband.
"What's this?" she asked.
Dennis glanced back.
"It's a toadstool. It's inedible."
He continued down the path, assuming Kristin followed.
"It doesn't taste good."
Dennis whipped around.
"Didn't I just tell you not to eat that?" he scolded.
Little Kristin spit and stared at him with pooling eyes.
Later my sister asked her, "Do you know what 'inedible' means?"
She shrugged.
"No."
I thought of those toadstools when, in their bookThe Life of the Body: Physical Well-being and Spiritual Formation, Valerie Hess and Lane Arnold described how grocery stores tend to place the tasty, sugar-laden, chemical-infused foods closer to eye level.
Unfortunately, many things sold in grocery stores are "edible" but not necessarily "food." Edible means that it has ingredients that won't immediately kill you if you eat them. (The long-term consequences may not be so positive.) ~p. 123
Though they might exaggerate this point a little, it reminded me how life is peppered with tasty and yet "inedible" choices—colorful and shiny distractions that derail us from our quest for transformation. Choices that don't necessarily feed us well either physically or spiritually.
(You'll be glad to know my niece didn't suffer any long-term consequence from this brief taste of the inedible. And my sister didn't kill my husband.)
In chapter 9, the authors discuss how choices we make in one season of life may not be appropriate or life-giving for another. They can also hold consequences for the future. As one who's approaching the autumn of life, I now find myself Dagwood-sandwiched between generational layers of father, children, and grandchildren, all served up with generous sides of worry and work, fun and laughter.
I'm busy, and some days I'm so weary I wish I'd invested in more consistent "holy habits" of diet and exercise and spiritual disciplines. But I procrastinate, often don't look past the present moment, and I'm afraid my aging body shows and feels the effects. Better day-to-day care of this house where I live, this space the Holy Spirit inhabits, would increase my ability to cope in unexpected circumstances and enjoy the wonder of this season.
Hess and Arnold give me hope for this stretched-out life of mine, for ways in which I can perhaps redeem some inedible choices.
A holy resolve to create margins of simplicity, rest, play and creativity fosters rejuvenation in our multidimensional life . . . We need time to re-create, to rest, to simply be still and savor simple pleasures. ~p. 114-115
In chapter 10, they give examples of how to introduce some of these habits into the lives of our children and grandchildren, both by teaching and by modeling. Many of these aren't new thoughts, like shopping the perimeter of the grocery store, though the place I shop has moved its coolers and freezers to the center, forcing us to pass by "inedibles" on our way for milk and yogurt. They've even placed a cart of day-old doughnuts right next to the eggs.
Chapter 11 focuses on ways to care for this planet, to steward the place where we live in these bodies we live in. All creation communicates its Creator, and we should honor His handiwork. (We can even admire the toadstools from afar.)
The natural world that supports and sustains human life is a continuous backdrop to our daily life. It has a role to play in our spiritual formation, just as our bodies do. ~p. 139
Hess and Arnold tell us in their conclusion that their goal for this book was to provide some "food for thought" in how the heart and body work in tandem to transform us into the image of Christ. They also suggest in "going on from here" that one create a personal rule of life to provide a scaffold to integrate body and heart and perhaps explore the concept of spiritual direction.
I conclude that to live healthy can help us live holy, and to live holy can help us live healthy. But sometimes, I just want to taste the inedible or taste a toadstool—like maybe a handful of M&M's.
After all, it's about balance, right?
How about you? How might you "go on from here?" Consider creating your own personal rule of life that integrates body and heart.
This is our last post on The Life of the Body: Physical Well-being and Spiritual Formation by Valerie E. Hess and Lane M. Arnold. If you've posted on your blog about the book, leave your link in the comments. Or, just jump in the discussion! This week we're giving away two more copies of this lovely book! Just leave a comment below and you'll be entered for a chance to win. Winners will be announced on next Monday's book club post. Last week's winners are Loretta and HisFireFly. Congratulations! Email me your snail at laraj@suddenlink.net and we'll get your books to you ASAP! Join us next week as we begin our June book discussion on Decisive: How to Make Better Choices in Life and Work by Chip and Dan Heath. Get your book and join us in June. Next week we'll cover chapters 1-4.