Christmas in Verse
Blog / Produced by The High Calling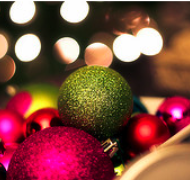 This morning I told Michelle DeRusha I was glad she included the Stargazer lilies in her post. Their presence communicated something poignant and deep about her wider experience of grief and loss.
Strong images can be like that. They take something big and crystallize it for us.
I think of Jesus in the manger. More than an image, to be sure, yet also an image "of the invisible God," the baby in a manger captures glory we can't put our arms around... and gives us a way to cradle it. Poetry, music, dance, paintings, a snippet of words from the bible, these too take the unspeakable big things and put them in smaller places where we can begin to hear their voice and respond.
This holiday season, we invite you to take the big things of Christmas— family, grief, Christ, celebration, laughter— and share them with us through something small. A poem, a picture, a video, a bible or song verse.
Post your offering on your blog and leave your link here in the comments, by Wednesday December 15. Link back to us. But also visit one another. And if we find something that especially makes us smile, sigh, or cry, we might feature it in a post here.
Christmas Ornaments Photo by Kirsten Michelle. Used with permission. Post by L.L. Barkat, author of God in the Yard: Spiritual Practice for the Rest of Us.

"Most of the material on The High Calling is available for reuse under a Creative Commons 3.0 license. Unfortunately, work by Laura Barkat is not available for reuse. If you are interested in reprinting work by Laura Barkat, please contact her directly."