Community Post: An Apologetic on Beauty
Blog / Produced by The High Calling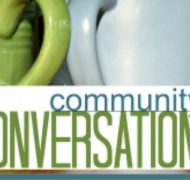 I will never again take a font for granted.
When I called Michelle to ask about designing a new header for my blog a year ago, I knew her creative skills were out of my league. Her name was given to me by a mutual friend, a church planter who works with my husband. Though she lives in Tennessee and I'm in South Carolina, our initial phone exchange was like talking over the picket fence with a next door neighbor from whom I'd borrowed cups of sugar for years.
With only three photos and some website links for inspiration, she created a piece of art that captured my personality intimately--without ever meeting me in person.
Later, I discovered that Michelle's Dad, Robbie deVilliers, is a world renowned font designer, one of 300 professionals in the world who share the same vocation. As a leading creative designer in the global market, he's turned brands like Orange Crush and Maxwell House into familiar household images.
Robbie created the script for my banner. The beautiful type, Petronella, was designed from his mother's handwriting and named after her. It was the first time Michelle ever used the font for a project. It turns out that the timing for the launch of the typeface isn't a random coincidence for me.
Petronella lived two doors down from Anne Frank's family in Holland during World War 2. As a young woman, she travelled to South Africa, where she later met her husband, to serve as a nurse. The two journals she penned during those years were letters to her sister. They became the template for the typography used on my header at Redemptions Beauty.
"(Her words) are absolutely heartbreaking and beautiful to read. I thought you might appreciate that there's true heart and much redemption tied into the typography," wrote Michelle, explaining the providence later in an email.
It "happens" that I'm currently writing my first book based on the theme of conversational letters over the course of my life. Honestly, I didn't see the serendipity in that until I wrote this article.
I met Robbie for the first time at a conference a few weeks ago in Houston, during his apologetic of beauty. Through a rich South African accent, a scarf tied around his neck, he clicked through a visual presentation revealing the way our Creator uses symmetry, proportion, and harmony in the outdoors as a template for beauty in the workplace.
The revelation of true beauty is an enlightening experience, a passion deep inside my soul that bubbles to the surface in a tearful eruption. I was dabbing mascara from the corners of my eyes onto a tissue when he finished, ready to restore redemptive beauty to the world through my calling as a writer.
"Art doesn't reproduce what we see, rather it makes us see," writes artist Paul Klee.
Afterward, while surrounded by architects, pastors and creatives in a huddle, Robbie caught my glassy eyes as I walked past and motioned for me to wait a minute. He grabbed his Ipad, started scrolling and said he wanted to show me a new App that he thought would capture my writing and photos beautifully.
I didn't know he knew my blog existed.
"You don't need to worry about stats and followers, just focus on expressing the beauty of your creativity," he said.
Afterwards, I walked out of the crowded room and down an empty hotel corridor, passed open doors and number plaques--enraptured by the art of Jesus' presence naming the indescribable.
I will never again take the lines, shape, density, and character of a font for granted. For they've taken me down a path of breathless beauty that leads to destiny.
Author bio: Shelly Miller is a writer and speaker who helps people think differently about life through storytelling and beauty. As a leadership coach, clergy wife, and mother of teenagers, she feels most alive surrounded by diversity and culture. She blogs weekly about faith at Redemptions Beauty.
This article is part of The High Calling series Creating Beauty at Work. While brightly painted walls or sleek, modern furniture might lighten our mood and inspire creativity, investing in the people we work with, helping them to bring the best of who they are and caring about them even when they can't, is at the heart of a beautiful workplace. Are you or someone you know feeling a little lackluster about your work environment? Before you buy a new framed print for the wall, try complimenting your cubicle mate or saying thank you to the janitor. Or start a conversation with a coworker by emailing or sharing one of the articles in our series.