Couples Who Pray Together
Blog / Produced by The High Calling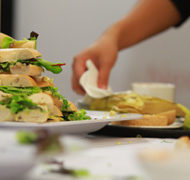 My husband and I are polar opposites about most things in life. He's an introvert; I'm an extrovert. He's from Canada; I'm from Georgia. He's analytical; I'm anything but. So when it comes to selecting and preparing lunch, which we eat together nearly every day, we don't often see eye-to-eye.
I am seldom more content than when I'm eating a tomato sandwich. This perfect Southern fare is served on white bread with garden fresh tomatoes, salt and pepper, and just enough mayonnaise that you must eat over your plate or risk having the juice drip down your forearms. The best sandwiches might drip all the way to your elbows or leave half a dozen or more tomato and mayo spattered droplets on your plate.
Peter does not share my opinion about the best lunch ever. We've traced his love for hot lunches to his elementary school days when he'd walk home for lunch because his school had no cafeteria. He'd open the door to the welcoming aroma of homemade soup simmering on the stove or leftovers heating up in what was surely the first microwave in the neighborhood.
These days, Peter still comes home for lunch. He typically leaves the office before noon but when he arrives, he encounters a scenario much different from his growing up days. Despite my best intentions and because I work from home, it's not uncommon for me to be in the middle of a project when he walks through the front door.
He opens the fridge, scrounges around to see what he can reheat, or he grabs a can of soup from the pantry, opens it and pours it in a pot. I fetch blue and white Fiestaware, napkins, and utensils, then pour two tall glasses of water.
The other day when he came home, I was feeling quite proud of myself for pulling leftovers out of the refrigerator well ahead of his arrival—spaghetti sauce in a gallon zip-top bag and a repurposed plastic container of whole wheat penne pasta.
As I drained the pasta in the brown colander, Peter ceased from our familiar routine and stood behind me. For just a moment he wrapped me in his arms, leaned over my shoulder and nuzzled into my neck. When he kissed my cheek ever so gently, his breath warmed my heart as well as my face.
"Mmmmm. That's nice," I said as he pulled away and returned to the task at hand.
"Do you know what I heard today on SpiritFM (our local Christian radio station)?" he asked.
"No. What?" I responded as I took clean glasses from the top shelf of the dishwasher and transferred them to the top shelf of the cabinet.
"Couples who pray together have better sex."
"Sure, " I responded, almost nonchalantly.
"You've heard that before?"
I wasn't sure if I'd heard that specifically, but it made sense to me. As a husband and wife grow in relationship with God, they also grow in relationship with one another.
Put another way, when you pray with someone, you become vulnerable to that person. Vulnerability leads to increased intimacy. Increased intimacy leads to…well, to increased intimacy.
I can see the principle at work in our own relationship. Over the course of our marriage we've prayed together, but until recently, those times have been intermittent. Since the holidays we've settled into a more consistent rhythm of praying together just after the morning alarm sounds – before the hustle and bustle of a busy household with four kids getting ready for school and out the door.
I reminded him of a particularly poignant prayer time just a few mornings earlier.
"If we had had more time that morning," I let my words taper off, letting only my raised eyebrows finish the thought.
Lunch was ready.
We smiled as we sat at the kitchen table.
Touched hands as we spoke a blessing over pasta and sauce.
Regretted early afternoon meetings.
Image by Tim Miller. Used with permission. Sourced via Flickr. Post by High Calling Facebook Editor, Cheryl Smith.
OTHER POSTS ON LOVE: