Designed to Work: What Do You Make Possible?
Blog / Produced by The High Calling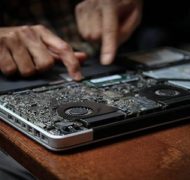 Last month my employer-issued laptop slowed to a crawl. Every keystroke was followed by a two second delay, making it impossible to type words correctly or fix their misspelling. Every mouse click generated a multi-colored spinning wheel. In frustration I clicked other tabs, wishing one of them would work, which only froze my computer. I finally pulled off the information highway when my sputtering Mac was passed by an Amish buggy.
I took it to the Help Desk to be "reimaged," a euphemism for wiping the hard drive clean. It didn't go well. The tech on call that evening was my friend, Jordan, but he couldn't get the right screens to accept my password. He tried fifteen times then was interrupted by a phone call. The caller seemed unable to access an online site, and as the call dragged on, it became apparent that the caller needed more assistance than Jordan could supply from a remote location. Thirty minutes later Jordan was still gamely trying to assist the frustrated caller and, with his cocked head pinching the phone to his shoulder, was trying to locate a loaner laptop and paperwork for me, all the while ignoring the occasional beep on lines two and three.
Everyone seemed frazzled. Me, because I had lost most of my day to technological issues and now had to make do with a PC that wasn't mine. The caller, whose plight seemed increasingly hopeless. The other callers, who probably wondered why no one answered the phone. And Jordan, who was responsible for satisfying everyone and was having no success with anyone.
Jordan's night seemed like a failure until you see the big picture. Jordan is a Christian who understands that his job is part of God's larger story of creation, fall, and redemption.
Creation says that God made Jordan in his image to steward this world on his behalf (Gen. 1:28). God placed Adam and Eve in the Garden of Eden and told them "to work it and take care of it" (Gen. 2:15). He wanted them to make something of the world, weaving the raw materials of nature into a flourishing human culture that would extend to the ends of the earth.
Jordan's job contributes to this larger endeavor. His behind the scenes role supports the technology that enables others to make something of the world. This essay is being written on my reimaged laptop. If it speaks to you, say a prayer of thanks for Jordan because it couldn't have been written without him.
But wasn't Jordan's night of frustration mostly a failure? Yes, which is the very thing we should expect in a world that is broken by the Fall. Adam's fall reminds us that some things are not fixable until morning. For Jordan, that meant waiting until the next day when enough reinforcements arrived to assist all callers. For particularly tough cases, we must wait patiently for that final morning, when "the day dawns and the morning star rises in your hearts" (2 Pet. 1:19). Some problems are so tangled, and so tragic, that only Jesus can fix them.
Redemption teaches us that Christ will return and make all things right. We wait actively, anticipating his return by serving the kingdom that repairs the fabric of our fraying world. When we encounter a stubborn problem that resists all our efforts, we've just met a reminder of our need for our Lord, and we bundle it up and give it to him.
There was nothing overtly Christian in the way Jordan handled his stress. He didn't quote a Bible verse or lay hands on my laptop. But his response was thoroughly Christian. He never lost his composure through the entire ordeal. He exuded patience, the fruit of the Spirit that takes the longest to ripen, and so showed that he has been walking with Jesus for a long time.
What task has God called you to do? It might be menial, and it might be hard. Maybe you're having a rough shift right now. If so, God has given you a golden opportunity. Can you describe what your job makes possible? How do you enable others to make something of the world? Answer these questions, and you will find God's purpose in your job. You will know that you are serving Jesus and obeying the first command he ever gave you (Col. 3:17; 23-24; Gen. 1:28).
Are you feeling overwhelmed by the failures of this day? Take them as a sign of the brokenness of this fallen world. Take them as a reminder of your need for Jesus. Your hope does not lie in an easy task, a successful sale, or even your good work. Your hope lies entirely in the return of Christ. Wait patiently for him. "Weeping may last for the night, but a shout of joy comes in the morning" (Psalm 30:5. NASB).
______________________________
Designed to Work
"We are exploring together. We are cultivating a garden together, backs to the sun. The question is a hoe in our hands and we are digging beneath the hard and crusty surface to the rich humus of our lives." Parker J. Palmer, Let Your Life Speak: Listening for the Voice of Vocation.
Work is not a curse. Before the Fall, God placed Adam and Eve in the garden and invited them to participate with him by cultivating the earth and tilling the soil and coaxing seedlings to find the sun. Our work is one way we participate in restoration. We were designed to work, and our good work is worship. In this series, Designed to Work, we'll explore together and celebrate the gift of work, given to us by a God who loves us deeply.
Featured image by Restart Project. Used with Permission. Source vie Flickr.