Dying Well: The Ultimate Harvest
Blog / Produced by The High Calling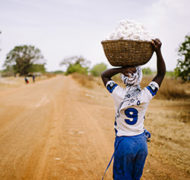 I met Lee Hough over a dozen years ago when I was trying unsuccessfully to break into the book publishing business. He served as a literary agent for one of my friends, and she graciously connected us. After spending time in his presence, I was impressed with Lee personally as well as professionally.
Lee didn't know anything about me, but he treated me with respect and care. Though his agency didn't end up representing me, Lee provided encouragement at a time in my career that I desperately needed it. He spoke well of me to others and even greeted me by name when we saw each other later at a large, industry-wide conference.
I had been beaten down by repeated rejection, and he—among others, including our mutual friend Becky--gave me perspective, time, and constructive criticism. They helped me feel less isolated, because while I love my job, writing is sometimes a lonely profession.
A decade later, an email landed in my inbox about Lee's battle with brain cancer. My heart sank, but as I read his poignant and faith-filled entries on Caring Bridge, I felt hope. I also admired his courage and honesty.
I forget so easily that life, with all its trials, disappointments, and illnesses, is fleeting. But when someone I know faces death—especially when they are close to my age—I'm reminded that earthly years are my time to sow, not reap. For all my accomplishments and accumulations, the row I'm hoeing is only temporary. One day, however, I will experience an abundant harvest of unimaginable beauty.
I pray to sow well. To put God's desires ahead of mine; to trust, especially when I don't understand. To keep my hand in His, even when the healing doesn't come.
Since a car wreck and a horrendous bout of Mononucleosis in my twenties, I've battled several different illnesses, including Hashimoto's Disease. My diagnosis is not life-threatening—just frustrating. Some days, I let God teach me spiritual lessons about how His strength is made perfect in my limitations. On other days, I pout. Most of the time, I remain keenly aware of how blessed I am and eagerly anticipate Heaven, where I won't ever feel tired or weak.
A few weeks ago, Lee received a perfect, free-of-cancer body. He left behind a wife and countless friends, clients, and associates who miss him terribly. They don't grieve as those without hope, though, because what awaited him was a crown of righteousness.
Psalm 65:11 says, "You crown the year with bountiful harvest; even the hard pathways overflow with abundance." (NLT) What a precious promise. Psalm 65 is a prophetic Psalm, and the verses refer to God's coming kingdom, when all things will be made new.
In one of his last journal entries, Lee quoted the apostle Paul: "The body that is sown is perishable, it is raised imperishable; it is sown in dishonor, it is raised in glory; it is sown in weakness, it is raised in power; it is sown a natural body, it is raised a spiritual body."
Oh, how I'm looking forward to that.
EDITOR'S NOTE: Just across the street from my home, the field of corn that grew to block our view most of the summer now lays flat after harvest. The stalks have been stripped bare and fallen; the ears full of grain have been plucked and seeded. It's that time again, at least here in the Midwest. It's the season when the work pays off. On Thursday mornings in October, we are exploring the harvest. Join us as we save seeds from flower pods, fight pests in the garden, and keep working even when the harvest is a long way off. And if you have a minute to spare, drop us a note in the comments to tell us what you have been harvesting this fall.
Other posts about the harvest:
Dena Dyer is a professional speaker and author whose books include Wounded Women of the Bible: Finding Hope When Life Hurts (Kregel, 2013) with Tina Samples. Connect with her on her website (www.denadyer.com), Facebook (DenaDyer-Author) or Twitter (motherinferior2).
Image by CIFOR. Used with permission. Sourced via Flickr.