Gaining Ground: A Welcome to Young Professionals
Blog / Produced by The High Calling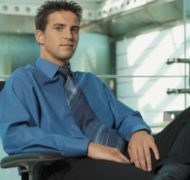 Welcome to the Young Professionals (YP) channel at TheHighCalling.org. Our aim at YP is simple:
To help you live out your career in a way that Jesus—as well as your boss, board members, clients, and families—will one day say, "Well done, good and faithful servant."
This standard presents a challenge for the most diligent and conscientious veteran employee, let alone a 23-year-old entrepreneur or a 29-year-old cubicle worker. None of us possesses the complete skill set, but together we get close.
Using a community approach, YP is committed to providing the best practical and theological encouragement for your success. Here you will find interviews, original articles, and helpful links culled with the young professional in mind. Topics will cover everything from managing peers to salary negotiation; job-appropriate dress to spiritual direction.
In addition, you will get access to an important list of coaches. These hand-picked individuals—working men and women with experience—care about good work and good work well done, and they care about you. We're excited about this particular element for two reasons. First, the coaches' availability comes at a premium, which says something about their desire to serve. Second, personal connections give theory a human touch. To connect with a YP coach, visit our Employment Categories page and find your profession. If a coach is available, then reach out!
Your work matters to God. Your work matters to us. To sample how we approach these important affirmations, we recommend J.B. Wood's article The Five Biggest Career Mistakes Christians Make. You can also browse the YP feed for more good selections, check related tweets at #THCypfs, or watch our "60 Seconds to Significance" videos on YouTube. Finally, we invite you to consider joining The High Calling's growing network on LinkedIn.
If you have questions, please contact our Young Professionals editor, Sam Van Eman. We're glad you're here.
Image by Victor1558. Used with permission. Sourced via Flickr.