Glorifying God in All Things at All Times
Blog / Produced by The High Calling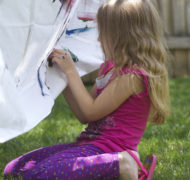 We may not be followed around by a television crew looking for a finger pointing skyward, but we can still give God the glory in our every day lives. In fact, God invites us to do so. As part of our theme Give Glory to God, Charity Singleton Craig explores what that means.
Not one to normally enjoy a Sunday afternoon football game, I happened to be watching television when the Green Bay Packers scored a game-tying field goal, forcing the Seattle Seahawks to join them in overtime during the 2015 NFC Championship Game.
The announcers patiently explained the rules to those of us non-football fans. Whoever gets the ball first in overtime can finish the game by scoring within their first possession. Otherwise, when the overtime clock winds down to zero, the team with the most points wins.
A whole slew of team representatives from both sides met in front of the cameras. The coin was tossed, and the ball went to the Seahawks. And just like that, Seattle quarterback Russell Wilson threw a 35-yard touchdown pass to Jermaine Kearse in the end zone, and the Seahawks were headed to the Super Bowl.
The stadium exploded with cheering and celebrating. Team members jumped on each other's backs, and the media stormed in with cameras and microphones to get the interviews. One Seahawks player found a bicycle and began riding up and down the sidelines.
God Prepared Me for This Situation
Then I watched as the camera panned to a group of Seattle players, hands joined and heads bowed.
"Seahawks won," I said, as my husband entered the room. He had taken our son to youth group and missed the big finish. "You should have seen that pass. Look, they're praying."
Soon, the camera found Wilson, the man of the hour. He credited his teammates, he honored his opponents, then he gave glory to God: "I believe God prepared me for this situation; I believe God prepared our team, too."
It's not the first time I've heard an athlete invoke the Almighty or watched a player point a finger heavenward following a victory. Olympian Gabby Douglas credited the Lord for her gold medal; NBA star Jeremy Lin is known to give God the glory for his successful basketball career; and then, of course, there's Tim Tebow, whose bowed posture following touchdowns became the stuff late-night television hosts loved to dish on. Despite the hype of other athletes, in that moment following the Seahawk's game-winning touchdown, the circle of prayer seemed so sincere and the tears streaming down Wilson's face seemed so earnest.
As I watched the interview, though, the biggest question on my mind was this: What about the other quarterback? I don't know whether the Packers' Aaron Rodgers is a man of faith or not, but in that moment with a season ending loss still stinging, how would Christians on the losing team glorify God? Were they circling up with other team members for prayer?
And just as importantly, in the ups and downs of an everyday life like mine, how do I give God glory in all things as Scripture calls me to?
Theocentric Way of Life
First, a step back. If we are going to give glory to God in all things, we must believe and recognize God's intimate involvement in all things. As a fan of many interests other than football, sometimes I find it hard to believe that God really cared whether or not Russell Wilson threw a 35-yard pass to win the game. And maybe the win itself is less significant than Russell Wilson exerting effort and using his gifts to be prepared to play well in that moment. That's probably just splitting hairs … but speaking of hair, that's one reason we can know God is involved and does care about these details of our lives. In Matthew 10:29-31, Jesus asks, "Are not two sparrows sold for a penny? Yet not one of them will fall to the ground outside your Father's care. And even the very hairs of your head are all numbered. So don't be afraid; you are worth more than many sparrows."
If God cares when a hair falls from our heads or a sparrow falls from the sky, surely he is concerned when a 35-yard pass falls safely into the hands of receiver waiting in the end zone. And when a losing team falls definitively out of the playoffs.
According to Owen Strachan, this same concern for details is why Paul tells us to do everything in our lives—all the way down to eating and drinking—for the glory of God. In "Tebow, Calvin, and the Hand of God in Sports," he writes, "Instead of living each day for our own glory, Paul urges us to adopt a theocentric way of life: 'So, whether you eat or drink, or whatever you do, do all to the glory of God' (1 Cor. 10:31). We might sometimes wonder whether the details of our lives are too small to bear cosmic significance, but Paul's mention of eating and drinking silences such a perspective. All of life matters to God; all of life, for the Christian, is God's."
So all that we do matters, and every detail is done for God's glory, but not all of us are followed around by a camera crew and media team. And for most of us, winning and losing are not cast so distinctly upon our resumes. Can we, like Wilson, proclaim that "God prepared [us] for this situation" even if it's just presenting a new budget or successfully cleaning a client's house?
The Way We Work
Strachan says yes. It's the way Tebow—or Wilson—played ball that matters, he says, not so much the winning and losing.
In the same way that God gains glory through the work of a faithful accountant, a sacrificial, sleep-deprived mother, and a repentant cellist, God gains glory through righteous athletes who work hard in his name and seek to be a light in dark places. God directs the life and exploits of Tim Tebow, football hero. But he also directs Owen Strachan, Boyce College professor, or my friend Colin LeCroy, a Dallas lawyer, or my friend Emily Duffus, an Atlanta schoolteacher. Tebow may reach more people in his work, but we are all working for the glory of God, who directs and blesses our work so as to magnify his name.
Rick Warren expands the boundaries for glorifying God even further. He says that not only what we do but what we attempt to do can bring honor to God. "Any goal that causes you to love God more brings glory to God," he writes in a devotional on his website. "Any goal you set that causes you to trust God more, brings glory to God. Any goal you set that causes to you obey God, to love God, to serve God, any goal that causes you to want to brag on God and tell unbelievers, 'Look what he did for me'—that's the goal that brings glory to God."
So it's not just in the telling of God's work that brings him glory—although the Apostle Paul insists we should always be ready to do that—but also in living according to his purposes, in doing all the things he made us to do. And like Bob Gorinski reminds us from his experience as a physical therapist, sometimes that means even in our failures and difficulties. "It is a good thing to 'Praise God' as a person recovers and moves deliberately with renewed strength," Bob writes. "But God also gets the glory when I have little to gain or offer yet manage to serve well the suffering, the impatient, and the misinformed."
In All Things at All Times
Years ago, I was at the home of one of my pastors, and after dinner with his family and several other friends, we were sitting in the living room chatting. Someone commented on their giant cat who was lounging lazily on the back of the sofa. I can't remember the cat's name, but it was something like "Bubba" or "Buster."
My pastor picked up the cat, and stroking its back said, "Bubba (let's just call him that) really knows how to glorify God."
We all laughed, expecting a facetious play on words from the Westminster Catechism. But he was being serious. As he expounded on his cat's many feline properties, he explained, "Bubba lives exactly the way God made him. He glorifies God by being the best cat he can be."
So, too, we glorify God by being all that we were made to be so we reflect all that He truly is, in both our successes and our failures, whether in the classroom or before the board of directors or on the football field.
"To 'give glory to God' means to live and speak sincerely and from the heart about His amazing nature or deeds—in such a way that we seek to do justice to the reality of who He is," writes Dan Schaeffer. "It's what He deserves in all things, at all times."