Would Jesus Do a Touchdown Dance?
Blog / Produced by The High Calling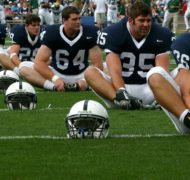 "When was the last time you gave God thanks for your job?" asks Phil Schiavoni. "Not simply for having a job, but for the work itself? Not simply for the income, but for the hard work that leads to the outcome?" In this article from our series Give God the Glory, Schiavoni inspires a new approach.
Ever see an athlete point to heaven after scoring a goal and you think, "Hey, a fellow believer"? Most often, we interpret this as "giving God the glory." The sports world is very peculiar to me, upside-down even, in this way, because what if my wife pointed to heaven every time she got her second graders to master a few vowel sounds? Would her students and other teachers offer the same accolades that we do for star athletes on screen?
It might seem absurd to think about touchdown dances and sky-pointing as teachers, accountants, butchers, bakers, and candlestick makers. But maybe it isn't. I believe we give God the glory—we point to him— every time we ascribe our success to his goodness. What do the Scriptures actually say about this, and what does it look like in our everyday jobs and everyday lives?
Consider the following verses:
The one who offers thanksgiving as his sacrifice glorifies me. (Ps. 50:23, ESV)

For everything God created is good, and nothing is to be rejected if it is received with thanksgiving. (1 Tim. 4:4, ESV)

So here's what I want you to do, God helping you: Take your everyday, ordinary life—your sleeping, eating, going-to-work, and walking-around life—and place it before God as an offering. (Rom. 12:1, The Message)
Practicing the Presence of God
Work is more than just a means to an end, a set of plays leading to the American Touchdown of comfort, ease, and good ol' R&R. No, work is a gift to us, and one of the ways we give God the glory is by giving thanks. When was the last time you gave God thanks for your job—not simply for having a job, but for the work itself? Not simply for the income, but for the hard work that leads to the outcome? When we steward our work as a gift, we transition from simple labor (a means to an end) to worship (placing it before God as an offering). In fact, work is our worship.
The first time I encountered this idea was in the book The Practice of the Presence of God by Brother Lawrence, a seventeenth century dishwasher. Yep. Dishwasher. Brother Lawrence was not learned enough to be considered worthy of the call of a monk but found God so distinctly through washing dishes, preparing meals, and fixing sandals that people came from all over the world to hear him. (Did I mention that he washed the dishes?) Listen to this quote from Brother Lawrence:
Nor is it needful that we should have great things to do … We can do little things for God; I turn the cake that is frying on the pan for love of him, and that done, if there is nothing else to call me, I prostrate myself in worship before him, who has given me grace to work; afterwards I rise happier than a king. It is enough for me to pick up but a straw from the ground for the love of God. (bold mine)
Do Your Dance and…
We can appreciate a premier athlete pointing to heaven. But the world is searching for everyday followers of Christ (like you and me) who work differently. What if we brought our going-to-work lives before God in this way?
For the football player, it would mean working hard in the offseason, humbly accepting positions he's been given, being a good teammate, owing his talents to God, mentoring generously, as well as scoring touchdowns. For the teacher, it would mean going beyond the three notoriously favorite reasons to teach: June, July, and August. It would mean caring for each kid's learning, collaborating well with support staff, interacting with parents with grace and truth, and thanking God for every success in the classroom—including mastery of vowel sounds.
So, if my wife asks whether she should do a touchdown dance and point to heaven after a success at school, I'll say, "Go ahead!" But working in such a way that she (and all the rest of us) wouldn't have to is what truly gives God the glory.