God at Work: Vehicles for Grace
Blog / Produced by The High Calling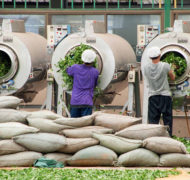 Do you ever wonder if the work you do matters? Those of us with jobs in classrooms, cubicles, and cafés sometimes doubt that our lives make an eternal difference. We question if our positions are as valuable in God's eyes as the occupation of "missionary" or "minister."
Be encouraged: when God's spirit lives inside you, any work you perform faithfully is kingdom work. Your place of business is a holy place. Moreover, that work is ordained. The Father will daily use you as you honor Him by laboring with diligence, excellence, and humility.
Dr. Scott Rae says Christians need to see our work as a part of our service to God because that's how Scripture characterizes it. In this video, Dr. Rae talks about the concept of business as ministry.
In the Old Testament, Mordecai told Esther: "You have been made queen for such a time as this." After their conversation, Esther fully and fearlessly embraced her calling, ultimately saving the Jews from extinction at the hands of a murderous king.
What if each of us considered ourselves modern-day Esthers? What if we saw our co-workers as brothers and sisters in need of divine mercy?
Imagine it: numerous employees, passionate about arriving at their desks, relying on God's guidance as they answer calls and handle complaints. Countless administrators using prayer and scripture as their management handbook. Truck drivers viewing detours and schedule changes as divine opportunities.
As Jesus takes the wheel—or keyboard or podium--our jobs become vehicles for grace. Our positions become platforms off which the Savior dives headfirst into hurting humanity.
Doorways to Ministry
A special art project reminded Larry McCormack that photography could be more than just snapping pictures. The collaboration put 21 local artists together with young people who have Down syndrome. As the duos created new works of art, they forged lasting relationships. Many of the professionals, including McCormack, came away with a fresh perspective and a renewed passion and purpose.
James Williams, professor of Anatomy and Cell Biology at the Indiana University School of Medicine, studies kidney stone diseases and teaches grad students. He says, "When I became a Christian at age 35 … I remember telling one of my colleagues very specifically about my conversion … My colleague listened politely, and then asked me if I was going to become a pastor."
Williams didn't know how to answer then, but now (many years later), he understands that God has him right where He wants him. The professor's charges hail from many different countries and have varied religious backgrounds. As Williams mentors and teaches, he asks questions about each student's home country and family. The conversations give him insights into how to pray. He asks God for opportunities to share Jesus with them, in both words and deeds.
When Fear Creeps In
Sometimes, when we begin to see our jobs as doorways to ministry we become overwhelmed with anxiety. God understands our frailty and has compassion on us during those moments of trepidation. However, we don't need to camp out in the land of fear. Instead, we can come to our Father in childlike faith, asking Him for strength, wisdom, and discernment to work for—and with—Him.
As Jennifer Dukes Lee noted in one of this week's daily reflections, "God doesn't send us out the door with our briefcases in the morning, wave goodbye, and say to us: 'Well, have a great day at work. I'll see you around supper time!' God literally goes with us. He promised in Scripture never to leave us or forsake us. We have a Helper. And He is saying to us today, 'Trust me. I will teach you…what you need to do and say.'"
God longs to infuse our workplaces with the fragrance of Christ. The world is getting darker, and those of us who believe in Jesus must let our light shine. Let's surrender our lives and hearts so that He can minister in and through us.
Embrace your work as a holy offering, and allow the One who created work to use you in His redemptive plan.
______________________________
God at Work
Where is God? Does he inhabit only the sanctuaries and monasteries and seminaries of the earth? Or, is God with you in your cubicle, your classroom, your kitchen, your conference call? What about the carpool lane? And if God is there with you, what does that mean? Join us for this series, God at Work, where we explore what it means that God is not only at work in you, but also, quite literally, with you. It may be difficult to see the Kingdom of God through the deadlines and reports and meetings and evaluations and budgets, but be encouraged: he is there. Together, let's find him in the ordinary places you work, and let's consider how his presence makes a difference for good.