Keep Calm: It's Not So Easy
Blog / Produced by The High Calling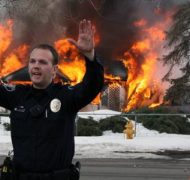 The new Executive Director called half the staff into the conference room. We all waited for her to speak, and when she did, our hearts rose and sank almost in the same moment. "You are here because you have survived the re-organization," she said. "You will be keeping your positions, but the employees who are not in this room have been given notice."

It reminds me of Dickens: "It was the best of times; it was the worst of times." I was elated to have my job, but some of the people who'd been let go were dear friends. Not only was I concerned for their livelihood, but I would also miss them terribly.

The morning after the layoffs, I entered the now half-empty office. The air seemed thick with a strange combination of elation, guilt, and grief. Once I reached the safety of my cubicle, I put my things down, set my head on my desk … and cried.

How do you handle upheaval at your place of employment? Do you panic or pray—or a mixture of both? That's what we're talking about this week at The High Calling.
Practical Advice
Dan King, who has been through quite a few rounds of reorgs and layoffs, has learned several helpful principles for dealing with tough changes at work.

In "Keep Calm: You Are Amazing, No Matter What," he writes: "Your value comes from who you are in Christ, not from how you secure your position during times of organizational turbulence. It doesn't matter what happens around you. You usually have no control over those circumstances, anyway. Often, the factors resulting in upheaval have nothing to do with your abilities."

Glynn Young knows all too well about the lack of control at work. His job is consistently stressful, and he's the first to admit he hasn't always handled unwelcome change well. In "Keep Calm: Dealing With Upheaval," he tells the story of a back injury which sidelined him for several months. It was brought on by work stress and the ways he (didn't) deal with his emotions.

Young says: "To avoid such a situation in the future, I've significantly reduced the degree to which I suppress anger. I don't swallow bad directions or bad ideas at work; I push back. In a recent situation that was simply bad, I refused to do the 'good soldier' thing. I stood my ground, and the other guy finally blinked. I also get help. Earlier this year, I pulled a muscle in my back. Instead of waiting, I called the therapist immediately. Finally, I've stopped trying to save the world. Organizations can do some really dumb things; I made a conscious decision not to fix the next dumb thing and, more importantly, followed through. Also, if a colleague is looking for affirmation for a planned course of action and I think it's a bad idea, I tell them so."
How Would Jesus React?
As Glynn mentions, stuffing one's emotions is a costly response to stress. Jen Sandbulte had the unenviable task of shepherding her company through myriad individual and corporate emotions after a violent act took an employee's life.

Sandbulte serves as a Human Resources Director for the small-town production company where the victim and several of her relatives worked. She writes, "I stood in shock, trying to formulate a communication plan as quickly as possible. Not only did this sweet, young girl work for us, but so did four members of her immediate family, including both her parents. This would impact our small-town production facility in major ways." In "Keep Calm: Grieving With Coworkers," she asks thought-provoking questions about what Jesus would have us do when our coworkers face trials (some of them unimaginable).

All of the writers in this week's series have practical wisdom to share. Please read, comment and share the articles, and if you need more help as you deal with upheaval, check out these articles:
______________________________
Dena Dyer is a wife, mom, author, speaker, and musician who loves encouraging audiences and readers to lean hard into Jesus and not take themselves too seriously. She has written hundreds of articles for magazines, newspapers, anthologies, blogs, and websites. She is currently serving as Content and Community Editor for The High Calling.
Send a Note to Dena
Keep Calm
"Upheaval" is something most of us dislike, especially when it applies to our work situation. When the corporate structure changes or we're forced into an uncomfortable position, how do we respond? Maybe we cope by denying anything's wrong and carrying on as if we're not upset. If we're a "Ready, Aim, Fire!" kind of person, we might strike out at people around us before seeking God's wisdom. Either approach can backfire, leaving us in more of a chaotic situation than before. In our series Keep Calm, The High Calling offers stories full of hard-won wisdom and practical ideas for coping with extreme—and often unwanted—changes in the workplace.

Featured image by David Rupert. Used with Permission. Source via Flickr.