Lessons from Elite Leaders: Mentors, Money,
&

Personal Development, Part 2 of 8

Blog / Produced by The High Calling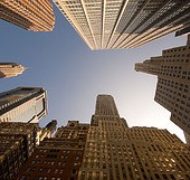 Part 1 | Part 2 | Part 3 | Part 4
Part 5 | Part 6 | Part 7 | Part 8
If you want to be an elite leader, you'll need mentors, money, and personal development. Building upon research reported in his Pulitzer Prize nominated book, Faith in the Halls of Power: How Evangelicals Joined the American Elite, Laity Leadership Institute Senior Fellow and Rice University sociologist D. Michael Lindsay mined this startling new data about the factors that help elite leaders advance in their careers. In his new PLATINUM Study (PLATINUM stands for Public Leaders in America Today the Inquiry into their Networks, Upbringing, and Motivations), Lindsay reports that mentors, money, and personal development are vital to career growth.
He says the prevailing thought for a long time was that in order to achieve power in society, a person had to be born into a powerful family, which usually meant being the child of a business leader and going to the "right schools." His new research shows those indicators take a different form today than they did in the past.
"No longer do you need to have a father who was a business tycoon," Lindsay says, "In fact, over half of the former White House Fellows I interviewed did not have a father who had a senior managerial job." Additionally, more than half of the Fellows earned an undergraduate degree from a public university, but an overwhelming 96 percent earned graduate degrees from elite universities. "If they went to law school, they went to Harvard or Stanford or Chicago; if they went to business school, they went to Wharton or Kellogg," Lindsay explains. In today's business environment, graduate education matters more than undergraduate.
It is also no longer vital for an aspiring leader to be born into wealth, but it is vital that he or she be exposed to people with money. This kind of access can come through educational settings, early career mentorships, and volunteer work. "We find that non-profit boards can actually be places where people who don't have what we would call cultural capital can develop it," Lindsay reports.
He adds, "Those relationships often emerge out of non-professional contexts. So church can be a place where people develop important, significant career-enhancing relationships. It's not like you go to church to build your resume, but I find that a number of people develop those kinds of close ties in contexts outside the workplace."
Lindsay advises both students and mid-level managers to think about how they can take advantage of the relationships their faith brings into their lives and also to think about these relationships holistically. This means considering not only how others can benefit us, but how we can benefit others. He mentions Clayton M. Christensen, a professor at Harvard Business School, as an example of a top leader who lives out this principle in his work. Christiansen told Lindsay that he prays regularly that God will bring people across his path for whom he can be part of the answer to their prayers. "One of the most powerful forms of witness can be the ways we help and encourage other people without regard to how it benefits us," says Lindsay.
Finally, senior leaders tend to be generalists rather than specialists, according to Lindsay. "We promote people because they have mastered a particular specialization. … And yet, to be a really senior leader, you have to be able to see the broader picture and you have to be a synthesizer."
He advises aspiring leaders to read widely outside their specialty and political persuasion and recommends The Economist and Books & Culture, for example, because these publications can help leaders become conversant in big ideas. This is important because the ability to speak to different kinds of people in different settings about different topics is essential in senior leadership positions.
Elite leaders get this sort of education in Ivy League graduate schools where they learn not only the intricacies of finance and accounting, for example, but where they also may learn strategy from reading Plato. "You can acquire that from getting an MBA or you can acquire it on your own by designing an intentional strategy of personal development."
Although most of us will never be elite leaders or White House Fellows, we all have the opportunity to learn how to lead those in our spheres of influence more effectively. We can do so by seeking out mentors and mentoring others, by thinking strategically about the relationships God has allowed to enrich our lives, and by cultivating a broad base of knowledge that will enable us to relate to a diverse group of people and see the world through a wide-angle lens.
D. Michael Lindsay is a Senior Fellow at Laity Leadership Institute. He is Assistant Professor of Sociology at RiceUniversityand Director of the Program for the Study of Leadership. He is also author of the Pulitzer Prize nominated Faith in the Halls of Power: How Evangelicals Joined the American Elite
. For this eight part series of lessons from elite leaders, The High Calling talked to Lindsay about his new PLATINUM Study, for which he has conducted 500 interviews. Photo by Roman Pavlyuk, with permission via Flickr.