A Letter to My Younger Self: Reconsidering Retirement
Blog / Produced by The High Calling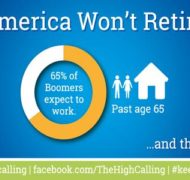 As Baby Boomers age, traditional American retirement seems impossible.

In June, TIME Magazine's cover story proclaimed: "2030: The Year Retirement Ends." The years after 2030, the article prognosticates, "won't be the years that recent generations have known."

A typical retiree (an educated, 64-year-old Gen X businesswoman) will be living on 41% of the current average national wage. Therefore, "In all likelihood … she won't actually be retired." She will still be working a part-time job.

How should we respond? We could treat this as a major problem. TIME does as much. (Senator Tom Harkin, quoted in the article, exhibits a doomsday attitude: "We're facing a tsunami. And we've got to deal with it—now.") Or we could internalize Biblical principles for healthy living instead. As Rick Warren notes, the word "retirement" isn't even in the Bible. Instead, Scripture teaches a transition from one sort of work to another. Retirement may or may not give us latitude regarding the sort of work we do, but it is healthy and right to work into old age—paid or unpaid.
______________________________
A Letter to My Younger Self
One of God's great gifts to us is wisdom from those who have walked the road before us. Our elders offer deep insights into navigating the seasons of life, and when we take time to listen, they offer valuable strategies for leading from the soul. One day, with the Lord's blessing, we will all find ourselves entering a season of retirement, perhaps complete with grand-parenting, and soaking up years of grace.

How will we arrive at those years, and how can we plan now to live well in that season of life? We've asked a few friends to help us think forward in this series, A Letter to My Younger Self.

Featured image and infographic designed by Spijkermat.