On Loving the Orphan
Blog / Produced by The High Calling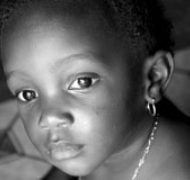 Seth and I sat entwined in our University Student Center, deep in conversation. There was the smell of sausage and the hum of dawn, and we leaned back, like a pull away, outlining what we believed. In a conversation that felt as if it would define us, Seth put orphan care on the table, what little he knew, and I agreed.
Mentioning that our family might one day include those adopted from the inner-city or from other tribes and tongues, we decided the people we wanted to be: risky, downright, and directed. We prophesied for our future selves. The chord struck, and that tone still rings through us.
In our sixth year of marriage we watched as a dear friend, a single mother, adopted a little girl—an Ethiopian beauty. We fell in love with her before we even met and agreed to godparent her. We heard whispers that our own daughter might be in Ethiopia, too.
I birthed three boys in three years, and as I longed for a daughter, the whispers grew louder, resonated more deeply. Ethiopian adoption seemed such a calling, a God-sized solution for including a daughter in our family. Without hesitation we began filling out the paperwork. We spent our savings and borrowed the rest. We chose her name, Abrihet—she shines.
And then, on the eve of no-turning-back commitment, we began to struggle with international orphan care. Sure, Abrihet was ours, but what of her sisters? What of her brothers? Many in our local church grappled with these same questions, asking if international orphan care necessarily meant adoption. We all asked whether we had we heard correctly? Could we claim Abrihet or any orphan as our own, really? Might God be whispering something else, something less obvious?
We began to listen to the tears of Ethiopian mothers who had lost their daughters because of economic conditions. They wept as if to say "if only." If only times were better. If only the crops had come in. If only I had been born American. "If only," they said; and we realized that if only their lives were improved, they could keep Abrihet and watch her grow into the hopeful possibility of full Ethiopian womanhood in the land of her birth.
The more we considered their plight, the more deeply we fell in love with an entire people group, an entire population of mothers. It was in this place of connection and love that we began to empathize with those Ethiopian mothers who felt the tension between motherhood and giving their children up for adoption. We knelt in humility, asking our Creator, "is there a way to allow these Ethiopian mothers the graceful dignity of raising their own daughters?"
Wrestling with our own tension, we became aware of an organization led by Ethiopian nationals called Kidmia that is tackling the root causes of poverty and vulnerability in rural Ethiopia—an organization seeking to help at-risk Ethiopian families stay intact. Their approach answered our questions. Over dinner, Aschalew Abebe, Ethiopian Country Director for Kidmia, spoke these words to us: "I know you grieve the daughter you gave up, but think about the many daughters you will save." His words imbued us with strength, relieved our tensions.
We are overjoyed by the Ethiopian children in our local community here in Northwest Arkansas. They and their parents shine the light of the diverse kingdom of God. We are blessed to call these children friends, nephews, nieces. Though our little girl will likely not be a part of that community, we rejoice in the thought that Abrihet and her sisters might be together, that they might enjoy a family supper around their mother's table somewhere in Ethiopia. We rejoice that Abrihet and her mother might find the redemption of that thing we all desire so desperately.
Home.
Image by Claire Burge, used with permission via Flickr. Post by Amber Haines.