Male-Female Relationships in the Workplace
Blog / Produced by The High Calling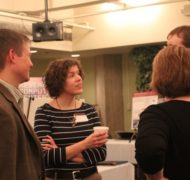 We met in another city over lunch to talk about social media. He spoke of his wife; I talked about my husband and family. Our conversation began a good professional relationship that continues.
Another business acquaintance shared dinner around a table with other professionals. He commented on how I looked, letting his eyes linger. I got that sick feeling in my stomach, making the choice to avoid this man. We've not maintained a business relationship.
In the professional world, we encounter people of the opposite sex on a daily basis. How we navigate those relationships with integrity is important. Some create strict guidelines while others avoid guidelines at all. The crux, as in everything, is to honestly seek God as we navigate our opposite sex relationships. Here are five questions to ask yourself as you evaluate your professional interactions:
1. Would I be completely at ease if my spouse saw my interaction with this person?
Thinking through how my meeting (or email interactions) would affect my spouse is a huge indicator of what I should do and how I should act. Those who are single can ask that same question of their best friend. Would he/she think my conversations or messaging with this person demonstrates integrity?
When I meet with male colleagues, I let my husband know. I tell him when I have phone meetings. A good friend of mine CCs his wife on correspondence with me, and he talks with her about me.
The apostle Paul has some wise words for every area of life, including our relationships with the opposite sex: "Only conduct yourselves in a manner worthy of the gospel of Christ, so that whether I come and see you or remain absent, I will hear of you that you are standing firm in one spirit, with one mind striving together for the faith of the gospel" (Phil. 1:27). Even Paul uses the "other person" test here. He tells the Philippians that he will hear of their antics, whether they're standing firm or not.
2. How does the way I interact show my belief in the equality between men and women in God's eyes?
It's important we don't shun the opposite sex out of fear, relegating ourselves to same-sex relationships for the sake of perceived propriety. Paul wrote: "There is neither Jew nor Greek, there is neither slave nor free man, there is neither male nor female; for you are all one in Christ Jesus" (Gal. 3:28). Because of Jesus' radical act on the cross, he created equity in every sector of society, including the sexes. And by his grace and integrity, we can pursue professional relationships with the opposite sex.
The workplace is typically not segregated. Neither is the church. We will best reflect the heart of God and his love for all people if we walk alongside men and women at work. I'm grateful for my male colleagues, appreciative of their perspectives. I wouldn't be where I am professionally without input from both genders.
3. Am I creating significant emotional boundaries by building into my marriage (or if I'm single, my friendships) and speaking well of my family?
The best way to maintain your integrity in your opposite-sex relationships is to keep the home fires burning. If you spend time building into your marriage or significant relationships, seeking your partner's good, choosing selflessness, your need to look elsewhere for praise and validation will wane.
The best boundary I've found is not necessarily a physical one; it's an emotional one. I feel safe when a businessman talks about his family frequently, when he praises his spouse publicly.
4. Am I keeping secrets?
Are you relishing a coworker's emails? Looking forward to a lunch break? Do you harbor feelings for someone? The painful way out is this: Walk in the light. If you're keeping secrets, something is wrong. I know it may hurt but make a choice to tell your spouse or a very good friend. If you struggle in this area, give a friend permission to ask the hard questions.
5. Have I decided on mutual boundaries with my spouse or accountability partner?
Decide together what kind of boundaries you'll both approve. Some might include: no car rides alone, quick disclosure if you feel someone's getting too close, full access to both email accounts at any time, the ability to question any attachment. It's better to go forward in your professional life with a boundary plan than to have to encounter uncomfortable situations without forethought. Plan now. And remember, that plan will actually free you to interact with integrity in all your relationships.
It is possible to have integrity in our business relationships. And as we interact well with our colleagues, we demonstrate the uncanny truth that God loves all people, male and female, that it's possible to keep business interactions pure.
Questions for Reflection:
Think about your professional interactions with the opposite sex. Would your spouse or a close Christian friend think your conversations and messages demonstrate integrity?
Read Mark Roberts' devotion on Exodus 20:14. Why do you think sexual sin is such a plague in our society?
In our interview with Lauren Winner, she says, "Sexual temptation often gets used as an excuse not to have meaningful professional relationships with the opposite sex. If the men won't have lunch with women, that promotes an old boy's network that is really bad for women in the workplace." How can you help promote fairness and equality in your workplace?
Are you facing sexual temptation in the workplace? We urge you to get help now. Talk with a trusted counselor, pastor, or Christian friend.