Online Communities: the Real Deal
Blog / Produced by The High Calling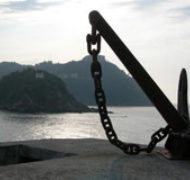 We pulled our pontoon boat near the shore, but not so close that we'd get stuck. My father threw two anchors overboard— one at the back, one at the front. For a few good hours then, we were free to poke around in the water, dive off the boat, make sand castles, and simply relax under a beautiful Tennessee sun. Without anchors, the experience would have been decidedly different. (Can you picture us chasing the boat while trying to make sand pies?)
In I Live in the Future & Here's How It Works, Nick Bilton discusses the importance of finding online anchor communities, in the face of an overwhelming assemblage of words, data, pictures and status updates—not to mention a plethora of advice on what to read, what music to listen to, how to lead, how to follow, and so on. Bilton says that such communities...
...provide cognitive road maps that help us navigate all that information and help relieve the mental taxation of trying to manage excessive information on one's own.
Here at TheHighCalling, we try to be an anchor community— to point you to the good, the true, the beautiful... to help you enjoy and make sense of your work, life and faith. In our experience, you're also part of the sifting, filtering and pointing process. This is a community, after all.
The idea of online community has seen its share of controversy. But that controversy misses Bilton's point. Sure, we may never get to swim together in real water, under a beautiful Tennessee (or Texas, or Florida) sun. Yet as Bilton notes, we help one another navigate the mind-boggling amount of information available on the Web. And that is a very real, important community activity.
For the record, if you ever show up at the Frio while I'm there, I'd be happy to go for a real swim or stay anchored on the peaceful dock with a canyon view. Also for the record, I can't vouch for what would happen if you showed up on my father's boat. Let's plan Texas.
You Online
1. Do you feel overwhelmed by the Internet? If so, what aspects of it overwhelm?
2. Have you found any online anchor communities? How do they help you? If you have more than one, how do they help you in similar or different ways?
3. Bilton asserts that online anchor communities are actually more diverse, offering a wider range of viewpoints than our face-to-face communities. In your experience, is this true?
4. We would love to be an anchor community for you—helping you enjoy and make sense of your work, life and faith. As such, how can we serve you better?
Post image by Urko Dorronsoro. Used with permission via Flickr. Laity Lodge Canoe on the Frio image by Laura Boggess. Used with permission. Post by L.L. Barkat, author of God in the Yard: Spiritual Practice for the Rest of Us.

"Most of the material on The High Calling is available for reuse under a Creative Commons 3.0 license. Unfortunately, work by Laura Barkat is not available for reuse. If you are interested in reprinting work by Laura Barkat, please contact her directly."