Rethinking Scarcity: Infinite Grace in Finite Settings
Blog / Produced by The High Calling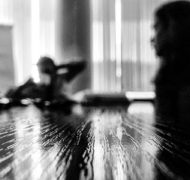 Scarcity was already on my mind this morning when, as I waited to order coffee, I overheard a couple whose two young children were fighting over a single water bottle. The little girl would snatch the drink, gulping greedily until it was yanked away by her older brother, who filled his little cheeks with water and glared at his sister as she tried to pull the water bottle back her way.
"Why are they so thirsty?" the dad asked, somewhat concerned. "Should we get them another cup?" The mom smiled knowingly. "Oh, they're not that thirsty," she answered. "Don't get another cup; the water is really good for them, and they drink a lot more when they're worried about running out."
I chuckled to myself as I moved away, thinking that scarcity is a powerful motivator. This savvy mom was harnessing that power for good, to keep her children hydrated on a hot summer day. But it's just as easy to see how scarcity can be a harmful force in the world and in the workplace. Research shows that the ways in which toddlers and mature educated adults react to scarcity—actual or perceived—aren't all that different. It has real power to shape our perceptions of reality, our priorities, and our overall sense of wellbeing. Yet we live and work in a world that is in many ways defined by scarcity. All earthly resources are finite, and therefore "scarce" in some context.
Marketplace Scarcity
The marketplace around us may be ruled by scarcity of time, talent, or resources, but we need not be. As Christians in the workplace, we have the freedom to reject the scarcity mindset because our ultimate goals and purposes are not tied to any finite resource but to an infinite God.
As Christians at work, there should be "something different" about the way we conduct ourselves. Instead of being constrained by the fear of what we might lose or never attain, we find our ultimate worth and security in our relationship with God. We are, therefore, free to leave fear behind and see opportunities in a resource-constrained environment.
Some of the most important statements I will make about the kind of person (and Christian) I am come in the form of personnel decisions—a manager's most precious and limited resource. Once when I was working for Trammell Crow Company in Dallas, I was responsible for hiring someone to lead a large portion of our business. The person I hired relocated his family to Dallas to take the job, and he was a hard worker with a great attitude. He was knowledgeable and well connected in the business, but it became apparent that he was simply wrong for the position. Not long after he started, my boss directed me to fire him. I felt terrible and more than a little responsible.
Although it would have been perfectly acceptable business practice and best for my career to follow my manager's instruction, I knew that it would be wrong of me, personally, to fire this employee without trying to find him a better fit within the company. While he wasn't a fit for this job, I knew that he would be a fit for a job within the company, and I started looking for the right opportunity for him. I went out on a limb, and I convinced our CEO to let me move him to another line of business. That was over ten years ago. Today, that same employee is still with the company, and he's become a key leader in that new business line. Even though it wasn't the easy or comfortable thing to do at the time, it turned out to be the right decision not just for me but for my company as well.
Finite Resources or Infinite God?
Over the years, I've had many opportunities like this to live out my faith at work in ways that reject the fears and anxieties that scarcity dictates. I certainly haven't always made perfect choices. Looking back though, I can see that I made my best decisions when my eyes were firmly fixed on the infinite God of the universe, rather than on any finite prize or what was in my immediate best interest.
Liberated from the constraints of scarcity, we enjoy the freedom to go "all out" and to make mistakes. We have the freedom to make the nonstrategic—but right—choice, to turn down the promotion that's wrong for your family, or to offer forgiveness to a colleague who maybe doesn't deserve it. Your responses to difficult situations and attitudes at work will say more to people about your faith than words ever could.
______________________________
Rethinking Scarcity
We all know the pinch of limited resources. Whether it's a crunch for time, a shrinking bank account, or a competitive workplace, we often experience life dissatisfied and craving more. At The High Calling, we are Rethinking Scarcity, attempting to understand how both real and perceived scarcity influences our thoughts and behaviors. We also will explore scarcity's influence in our decisions and how reimagining constraints not only changes the way we respond to our circumstances, but ultimately may change our circumstances themselves. Join us for the conversation, and while you're at it, why not share some of these same resources via email or social media with friends or colleagues who also might also be interested.
Image by Vitaliy Kalyniuk. Used with permission. Sourced via Flickr.