On the Seat of a Tractor
Blog / Produced by The High Calling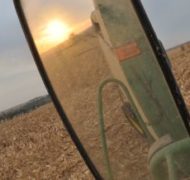 The two-way radio crackles, and I eavesdrop on the farmers I will feed tonight.
I hear my father's voice first, tractor rumbling in the background. His words are dressed in a smile that I cannot see but recognize from the cadence of his voice: "Wagons are empty! I'm headed back your way."
"Great!" my husband responds from the combine. His words grin, too. "Circle back on the south side. We'll fill the wagons once more tonight."
I watch this luminous autumn dance out my kitchen window – an emptying and filling, emptying and filling. I turn the oven to low. Shadows will stretch long before we gather around the table to tell stories of the day's labor.
I smile, too.
Sinking sun sets fields ablaze before my father walks through the back door. He bends slowly, straightens his shoes alongside his granddaughter's sandals. Our youngest girl slides sock-footed over wood floors to sling arms around her Grandpa Dukes – she calls him "Bop."
My father is here for three weeks this harvest. He fills a tractor seat that once belonged to my father-in-law, Paul Lee. Paul was a stoic Vietnam veteran who labored long in the fields that final autumn, between chemo treatments that left him bald under a John Deere cap. I eavesdropped on Paul's two-way radio calls, too. I remember his voice.
In deepest, unspoken places, I worried: Will this be his last harvest?
My father-in-law died a few weeks after they emptied the last wagon. The old Army Captain left final orders to his son, my husband, on a scrap of paper: "Scott needs a hired man."
The next year, when fields turned copper, my father showed up to fill the tractor seat.
These autumn nights, it's my dad who greets me in the kitchen while I keep supper warm. We wait for my husband to finish chores before we eat. Girls skip between us, hand-delivering crayon drawings for Bop.
I stir, pour, season. Dad drops into a wooden chair, sighs.
"What are you thinking, Dad?" I set out pottery; straighten forks, knives.
"I just love this, you know," he says, sweeping his arm at a window overlooking half-naked fields. "It's almost as fun as catching walleye. Almost."
It's been ten years since my dad, now 72, retired as CEO of a farm cooperative. He served as board chairman for a major agri-business firm and helped train agricultural leaders in places like Ethiopia.
"When all that went away, Jennifer … I …" His voice trails, shoulders slump. He combs fingers through his still-black hair, just like he's done since I was a toddler on his lap.
"I didn't feel I had a purpose," he continues. "But this? This feels like purpose to me."
He wonders aloud how strange that might seem – seeing how one father had to leave space in a tractor so another father could find a sense of purpose when he filled it.
I nod my head, because I've felt it too. Guilt surfaces when I relish these days with a Dukes man on this Lee farm.
But I also know my father-in-law's dying hope: that his son wouldn't have to farm alone. I know my father-in-law always felt closest to God on the seat of a tractor. I know he'd want his successor to feel the same way -- that in the changing of the guard, God was the one constant.
The back door creaks open a second time. I pull supper from the oven.
We bow heads over steaming plates to offer deepest thanks.
All three farmers are home.
Photo and post by Jennifer Dukes Lee.