Thank God for Zombies That Trick or Treat
Blog / Produced by The High Calling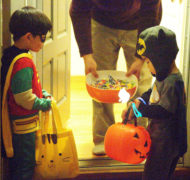 This October, the most popular costumes for children are just what you would expect. There will be princesses. There will be heroes and superheroes. And there will be zombies. According to the National Retail Federation, zombies will be the seventh most popular costume with kids.
Nothing says trick-or-treat like kid zombies.
But, it doesn't stop there. Zombies will also be the fourth most popular costume for adults. This should be no surprise given the ongoing popularity of The Walking Dead, whose season 6 premiere attracted 20 million viewers and continued to solidify its status as "the highest total viewership of any series in cable history."
Truly, The Walking Dead is the megachurch of cable television, catching our collective interest with just the right mix of couch potato thrills and technological anxieties.
We've written about zombies before at The High Calling—from zombie haiku to a zombie devotional. Our good friend Alissa Wilkinson even has a new book about zombies and other apocalyptic horrors coming out soon from Eerdmans.
Like any good pop culture parable, zombie stories work because they help us think about deep truths that we feel in our bones. The undead remind us what it means to be alive—to be driven by something more than a mindless desire to consume. Those who survive against the undead remind us to do more than fight—to be thankful for beauty in unlikely places. And, of course, zombie stories help us think about civilization itself.
Survival stories and apocalyptic narratives help us see the passive technologies all around us. When we see them, we can thank God for them.
When we see apocalyptic images of overgrown highways on television and in the movies, we are thankful for roads. We are thankful for electricity when we see the apocalyptic hero carrying a torch. We are thankful for fresh produce when we see the son of that very same hero scavenging for canned peas.
Dr. Mark Samples of Davidson College recently said, "When it comes to technologies, we've become so habituated to their affordances that we often don't even see them. We take them for granted." People are quick to think of mobile phones and computers when they consider their relationship with technology. But these are really just tools that help us access an infrastructure that runs passively in the background of the 21st century.
Did you drive anywhere this week? Your car wouldn't work without the technologies of oil refineries, robot-assisted assembly lines, and vulcanized rubber. Your commute wouldn't work without roads and bridges and traffic lights.
How are you reading this right now? Your computer requires the mining of silicon and heavy metals. Your phone requires the creation, transportation, and storage of energy. A printed page requires lumber mills and paper mills and laser ink.
What else is Halloween but an opportunity to thank God for averted disasters? We could be dead, but we are alive. We could be lost, but we are found. We could be afraid, but we known the perfect love of God that gives us peace no matter the circumstance.
So I don't worry at all when my eleven-year-old son wants to create a zombie-themed haunted house for the neighborhood. Instead, I show him how to make rotting flesh with toilet paper and liquid latex and help him build a maze in our garage. His friends need a safe place to test their courage against the world, and I need to remember to thank God for the great and good gift of technology.