A Time to Weep and a Time to Laugh
Blog / Produced by The High Calling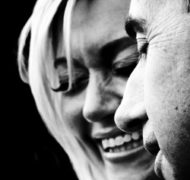 Editor's Note: According to Ecclesiastes 3, "There is a time for everything...." Not everything on that list, however, comes to us easily. Some items confound, others liberate, and none of them surrender to our wills entirely. The following article is part of a series that explores the complexity of these 14 poetic lines.
It's an odd premise for a comedy: a movie about a young guy who unexpectedly contracts cancer and is given a fifty percent chance of survival (hence the title, 50/50). Cancer is seldom a good source for uproarious belly-laughs, but strangely, it works in this film.
I watched 50/50 alone in my living room on a Saturday morning earlier this year. And I laughed. But I must also admit that long before I knew whether Joseph Gordon-Levitt's character would live or die (I won't spoil it for you), I found myself not only misty-eyed, but weeping. Inexplicably.
I still laughed at times, but I remained baffled by my tearful response. As I sat on my couch and wept, I finally asked out loud, "What's wrong with me?"
What was wrong with me, indeed? Months later, I'm still trying to figure that out. Maybe the movie evoked something in me—some latent fear of death, uncertainty about my future, an awareness of the beautiful but temporal nature of human relationships—I really don't know. All I know is that it made me, a guy who had long prided himself on not crying, weep like a child.
With more reflection, I think I've begun to understand. The main character doesn't express emotions. (He's probably the kind of guy who would pride himself on not crying.) When he is suddenly faced with a terrifying reality, he doesn't know how to say anything other than "I'm fine" whenever anyone tries to talk to him.
That "I'm fine" answer has come out of my mouth one too many times for it not to feel eerily familiar.
Ecclesiastes 3 tells us there is a season for everything, including "a time to weep and a time to laugh." Sign me up for the laughter, but I've always preferred to leave the weeping to everyone else. I fight hard to squash unauthorized activity in my tear ducts. And if I can't win, I hide my eyes.
That Saturday morning on my couch, though, was one of the first times I let the tears roll. Granted, I was alone, but still, it marked the beginning of a new and more civil arrangement between my insubordinate emotions and me.
In that moment, they stopped being an enemy; a sign of weakness. Instead they became an ally to help me understand what I'm feeling and why, to help me see what God might be teaching me.
There is a time to weep and a time to laugh. Both are a response to something outside of our control. When we are amused, we laugh. We can't always help it; laughter just emerges from within. Weeping, no matter how hard we might want to fight it, also escapes from within. And sometimes, they both bubble to the surface at the same time.
Confluence of emotion
Just last week I sat with a student who had a rough couple of weeks. She's had a rough life, actually, but most recently, pain has come in a different way. As a mentor, I've been challenging her about something she seems unwilling to surrender to God. She has been reluctant, defensive, stubborn. In this particular moment, I sat in silence and let her reflect—and cry. As she wiped away the tears, she said, "We've been through a lot together, haven't we?"
Without realizing it was about to happen, I started laughing. My laughter felt inappropriate, but I couldn't help it. I laughed again. A moment later, she was laughing, too. Still hurting, still weeping, still wiping away tears, but also laughing.
Suffice it to say that "been through a lot together" is an understatement...such an understatement that the only appropriate response was laughter.
But we've all been through a lot together. All of us. Every human walking this earth and living out the various seasons of life—the highs, lows, trials, joys, and even the mundane moments in between. These seasons can evoke unprompted laughter or spontaneous moments of weeping.
Whether we're alone on a couch watching a movie, or sitting in a coffee shop with a student who struggles to understand who God has created her to be—there is a time for tears and a time for laughter. And sometimes the two coincide. Awkwardly. Uncomfortably. Beautifully.
Who are we to try and fight that?
* * * * *
The "Season for Everything" Collection
Image by jon smith. Used with permission. Sourced via Flickr. Post by Tyler Charles. Tyler is a freelance writer and a campus minister with the CCO at Ohio Wesleyan University.