Top 10 Business Book Picks for Christmas
Blog / Produced by The High Calling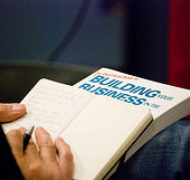 True confession time. (Deep breath). Here goes: I have not read any of the books on this list.
I know, I know—shame on me. It's just that…well; I'm not the business book kind of person. At least I didn't think so. And then I read Made to Stick. And was amazed at how practical much of this "business" stuff is. So, when I compiled this list, it was with some ulterior motives.
I have a lot of catching up to do.
No worries, though—I was able to tap into the brains of a group of highly esteemed consultants to bring you these best ever business book ideas for Christmas. In fact, these guys (and gals) were so zealous for this subject matter that I had to consult another consultant to help me whittle down the list of their recommendations.
So, without further ado…here is the cream of the crop:
1. Why Business Matters to God: (And What Still Needs to Be Fixed) by Jeff Van Duzer
Mark D. Roberts, senior director and scholar-in-residence of Laity Lodge, says about this book:
"It would be hard to imagine a better book on business from a Christian perspective. Why Business Matters to God is solidly biblical, deeply theological and realistically practical. It is a must-read not only for all Christians in business, but also for pastors and other church leaders who are committed to helping the people of God live each day for God's purposes in the world."
This endorsement from one of TheHighCalling's own is all I need!
2. Drive: The Surprising Truth About What Motivates Us by Daniel H. Pink
Pink's website touts this book as the product of four decades of scientific research on human motivation.Whether you are leading a team of high-powered executives or disciplining your child, understanding what motivates the person is a must. You might be surprised about what Pink has to say.
3. How the Mighty Fall: And Why Some Companies Never Give In by Jim Collins
Collins examines the qualities that cause a company to fail and gives hope for recovery from decline once it has already started. The author conducted a four year research project to identify the stages of decline and ways to avoid them.
4. Switch: How to Change Things When Change Is Hard by Chip and Dan Heath
If you participated in our most recent book club discussion, you'll know why I'm recommending this book: These guys rock! In this book they address a problem most all of us can relate to. The Heath brothers studied people going through difficult changes—successfully. Switch shares the secrets of successful transition that they discovered.
5. Networking is a Contact Sport: How Staying Connected and Serving Others Will Help You Grow Your Business, Expand Your Influence—Or Even Land Your Next Job by Joe Sweeney
My friend who is currently reading this book says, "...He talks about how--if we look as networking at giving, not getting, we'll be much more successful. Lots of great stories, told in a conversational style." I like stories. Especially conversational ones.
6. First, Break All the Rules: What the World's Greatest Managers Do Differently by Marcus Buckingham and Curt Coffman
These twenty-five year veterans of the Gallup Organization draw from more than 80,000 interviews of managers in 400 different companies to debunk some of the commonly held beliefs about what makes an effective manager. You may have enjoyed the series of posts L.L. Barkat did on this book this past summer, but this one sounds worthy of a full read.
7. Trust Agents: Using the Web to Build Influence, Improve Reputation, and Earn Trust by Chris Brogan and Julien Smith
Brogan and Smith apply the qualities of trust to social networking in ways designed to improve a brand's influence, reputation, and profits. Who doesn't want that?
8. Run With the Horses: The Quest for Life at Its Best by Eugene Peterson
In this title--inspired by Jeremiah 12:5--Peterson reflects on what it truly means to live the abundant life. My friend who recommended this book said, "This is actually a spiritual book but I have learned and applied more about business from it than most business books I have ever read." That's a winning endorsement.
9. I Live in the Future & Here's How It Works: Why Your World, Work, and Brain Are Being Creatively Disrupted by Nick Bilton
We've heard all the arguments about how today's technology culture is ruining the minds of the next generation. This book takes the opposite position. Bilton sheds light on the positive ways the media is shaping business and society.
10. Treat Me Like A Customer: Using Lessons From Work to Succeed in Life by Louis Upkins, Jr.
Upkins uses a customer service principle to guide successful business people to more successful family relationships. Read more about this book in the author's interview with our senior editor.
All Work and No Play
Don't see a title that interests you? Maybe the book you are looking for hasn't been written yet. Let's have some fun, shall we? In the comments, give us a business title that you would like to see on the shelves. Get creative! Our editors will pick the title we like best and give that person a copy of our number one book on this list: Why Business Matters To God. The winner will be announced in two week's in the next Christmas list post. Have fun!
Our Christmas Lists
Top 10 Biography (or Autobiography) Picks
Top 10 Writing Books for Christmas
Photo by Olando7, used with permission. Post by Laura J. Boggess, author of The Wings of Klaio series.