Transitioning Into a Ministry of Presence
Blog / Produced by The High Calling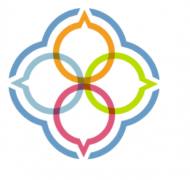 Despite a divorce and a series of other setbacks, Rosalie Grafe was bursting with joy. We interact via Facebook, and I was struck by how her centered presence always seemed to calm me down. As someone who had just lost several close friends, I asked how she navigated through her transitions and ended up in such a positive place.
In the wake of her divorce and the sudden death of her 18-year-old granddaughter, Rosalie went on a pilgrimage to the monastery of the Community of Northumbria and the pilgrim path to St. Cuthbert's Cave in northeast England. She had connected with the Community through reading Celtic Daily Prayer: Prayers and Readings from the Northumbria Community. During her week at Northumbria and with her stays at St. Aidan and St. Hild on Holy Island, the Convent of the Holy Paraclete in Whitby, and Bar Convent in York, Rosalie discovered a regular rhythm of life that helped her to focus her energies on where she should be heading next.
Upon returning to Portland, Oregon, she continued a virtual connection with the Community of Northumbria through their website. Also, she connected in real time as a Companion of the Celtic Community, Way of Columba at Saints Peter and Paul's, a lay monastic community based in East Portland, Oregon. These two prayer groups provide the online and offline connections that keep her grounded.
Rosalie found herself reflecting on Ananais, who was plucked by God from his home to go and aid Saul (Acts 9:10-11, 17). The story kept speaking to her heart. Like Ananais, she realized she was not called to the solitary life of a hermit. After some prayer, she set up her home as a respite for fellow wandering pilgrims. She named this individual retreat house Quaker Abbey as a reminder of the still silence that she found during her work with the Friends Community. As arthritis and a shrinking retirement budget narrowed her ability to offer hospitality, she set up Quaker Abbey Press, which enables her to do very small print runs of books. This ministry allowed her to give a voice to those writers whose work she wants to illuminate.
Even though these home-based ministries occupied much of her time, she continued to feel a call to help others. But rather than wait for a church or nonprofit to give her something to do, she simply went where her heart told her she was needed.
An evangelical Friend (Quaker) since 1971, she returned to active membership with Portland's Reedwood Friends Church. During her marriage to an Episcopalian, she had become an active chaperone and support to the youth minister at the Grafe family church in southeast Portland, a role she continues to this day. She watched as nine-year-old acolytes-in-training matured, joined the thriving youth group and then graduated as young adults. Of all that she had accomplished, she counts as most significant the humble service of being a female chaperone for the youth group at almost all the single, male youth minister's events. She calls this being "a butt in a chair." In the highly charged legal cases faced by a number of denominations, the role of the chaperone is vital. She continues with both churches and calls herself a "Quakepalian."
I began reflecting on how many Rosalies I've met in my life, who smiled at me when I thought I was going to crack up. How do we encourage and nurture these everyday saints who despite their bumps and bruises continue to shine forth proclaiming the love of Christ? Their stories give me hope that I can get through this difficult time with God's help.
Rosalie illustrates how we need others around us to be our support system to help us navigate through our transitions. While I would prefer to connect with people face-to-face, Rosalie has taught me how one can maintain an online support system as well. So, even if we may feel isolated in our cubicle or home office, we have one more reminder that we are not truly alone.