Twas the Eve of My First Job
Blog / Produced by The High Calling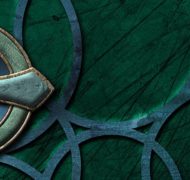 'Twas the eve of my first job when all in my thoughts,
Not a worry consumed me, except for the cost
Of debt now accrued through (five) long years of schooling;
Of parental-raised eyebrows on what I's pursuing;
And of answers I gave to impress my employer
In that second call-back from my step-mother's foyer.
All should go well, still, I mused to myself
As I grabbed the remote from the cabinet shelf.
Jimmy Fallon will hum a few tunes with the band,
Blue flicker and jokes to welcome dream-land.
Whether real or imagined, I can't really say,
But a specter came with me to work the next day.
Through emails and meetings, lunch and the rest,
Hour by hour, I suffered his test.
"Who are these fine people," he asked with a smirk,
"That care in one corner, then act like a jerk?
They're trying to stop you, not add to their chances
Of missing the quota and next month's advances.
The boss said, 'He's talent, he'll buck the old trends!'
Now is your chance to prove you are their end."
So day after day I considered his counsel,
Till all of the friendships I could've had crumbled.
I spared no expense, chased praises with glee,
Working late hours till high-ups could see,
That everything said was as right and as true:
"Threat" to the masses, "Promise" to the Few.
What more should I tell about what happened then?
You've seen it repeated by other young men
(Perhaps you have seen it in young women, too,
Though hardly, I'd guess, less a very small few).
I worked my way up, loving money and power,
And all of the trappings of ivory towers.
I bought out my partners at bottom-bin prices
And turned in a colleague for one of his vices.
With greed and aplomb I gathered a stash
Of stock options, golf games, and cold.hard.cash.
On Sundays, I spoke to the preacher with grace,
Then, come Monday morning, re-entered the race,
To twist and to carve out my plot in the sun
And prove to the world that I'd hardly begun.
One night around fifty, my lifestyle set,
With every dream dreamed, with every goal met,
I sat up and groaned as was often with me,
When I heard my young man turn the lock with a key.
Past the white fridge and the white basement door,
His home one last week or two, sadly not more.
He interviewed Friday; did well, I think.
I know it (Eavesdropped by the powder room sink).
What I heard was a ghost from way back in my past,
As the boy, a man now! spoke with ease and with class.
He talked just enough so to please the Boss asking,
Without going on, without multi-tasking.
Yet under the rhetoric fine to impress,
I saw my own mouth give the engaging address.
"What have I done?" I cried, with furrowed brow,
The mirror stared back to say, "You're the specter now!"
"Oh, God," I confessed, trying hard to regroup,
"How blind was my influence beneath my own roof?
Of course, he would know; more than flesh, more than blood:
Decades he's watched me—far more than he should."
When at last I left hiding, he stood waiting there,
His phone in hand, smiling, "Dad, are you aware,
That your every imperfection, each major flaw,
I know like myself; like a lawyer the law?
'Tis the gift I've been given, seeing what you see now—
Those obstacles plenty, those jewels in your crown.
They've run you down ragged, 'For what?' now you ask,
They've turned on their master and made him their task.
Let them go. Take them off. It's not late to start.
Nothing's impossible with a clean, contrite heart."
His words sounded common, I'd heard them before,
But this time they rang out with newness for sure.
I wiped a small tear and then shared my hand firm,
He shook it; I thanked him as coals on me burned.
"Don't know how to right a ship so far astray,
Incriminations weigh it with debts I must pay.
I'll make business actions again like last week,
But this time with room for the preacher to speak.
Dear boy, you've passed twenty with life and with limb,
And with wisdom enough to know new life within."
To our daughters and sons, mothers and fathers, young professionals, entrepreneurs, CEOs, retirees, and every worker in-between who's trying to live out the high calling of this daily life...may the birth of Christ bring you hope, healing, and vision. Merry Christmas!
"Surely the arm of the LORD is not too short to save, nor his ear to dull to hear (Isaiah 59:1).
*****
Read more of the work and faith obstacle series here: