A Week of Holy
Blog / Produced by The High Calling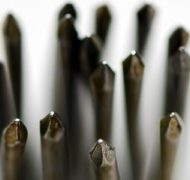 On Sunday morning, we wave our palms and sing Hosanna in the Highest.
And I am swept up in the raucous celebration—wondering if the stones are indeed crying out. Yet in the midst of this great joy there is a chilling stillness.
Thus begins the journey to the cross.
A week of little deaths—that's what Holy Week is for us. I think I understand why the Orthodox Church calls the season of Lent the Bright Sadness. Celebration and mourning take turns to stir deep places, and eyes are opened to the truth that we cannot follow Christ and remain unchanged.
During Lent I want to burrow away—hide in books and words and prayer. But I know on this journey—especially in this last week—I will need these people. I need these people who stand beside me now lifting the leafy fingers of palm fronds. I need to clasp their hands tight and enter into this with strong arms holding me. For…am I not the one who—after waving these palms in exultation—will so quickly turn in anger? Am I not the one who will deny and betray the Lover of My Soul? We enter into Holy Week knowing the end of the story—the great joy of reconciliation. Yet we also know there is no way to Sunday except through Good Friday. There is nothing for it except the walking through.
And I cannot do this alone. Will you come with me?
It can't be done alone, this transformation. It requires a rubbing up against each other, a shared realization that these are more than words…they are resurrection.
This Holy week—such a thin place—awakens the awareness that we were made for something more and gives this hunger a voice—a name: Jesus. This week, at The High Calling, we are walking together through the gifts that this season offers. Will you come with us?
Let's walk together through this bright sadness as we companion our Lord through this week of remembering.
Sunday is coming.
Post by Laura J. Boggess.