Books on Work: Every Good Endeavor, Part Two
Blog / Produced by The High Calling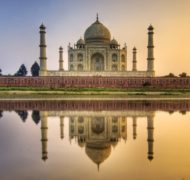 When you think about people who live in a palace, what image comes to mind? Do you visualize Queen Elizabeth II residing in Buckingham Palace? Or perhaps some character from Downton Abbey?
According to co-authors Timothy Keller and Katherine Leary Alsdorf, most all of us who are Christ-followers and participants in the workplace are "living in the Palace"—a powerful metaphor for those of us with spiritual influence and human capital.
In part two of Every Good Endeavor—Our Problems with Work—the authors detail the frustrations and emptiness many of us often feel with striving to do quality and fulfilling work in a broken world. Keller and Alsdorf write at length concerning the problems we have with our work—how it can be fruitless, pointless, selfish, and even idolatrous. Most of this section of Every Good Endeavor describes what many of us already know: the Fall of Adam and Eve has affected every area of the human race—including our work.
In chapter seven, Work Becomes Selfish, the use of the imagery of Christ-followers "living in the palace" is a riveting concept that will capture the attention of many readers. The metaphor is rooted—in part—in the biblical narrative of Queen Esther in the Old Testament book of Esther.
The Old Testament story of Esther is about a young, beautiful Jewish girl who finds herself elevated to the position of Queen of Persia during the time in which the Hebrews were dispersed throughout the Persian Empire. Her ruler and lover is King Xerxes who does not know Esther is of Jewish heritage. In Esther, chapter three, we learn that Haman—a high ranking official in the government—has convinced King Xerxes the Jews in the Persian Empire are a danger to his power. Therefore, Haman secures a royal decree that neighbors of the Jewish families throughout Persia are free to kill the Hebrews and plunder their wealth. (Esther 3:1-15) Esther's relative Mordecai—a Jewish leader—contacts Esther and begs her to use her influence with the king to avert this danger and save her people. This is a huge request as Esther risks not only extreme punishment, but also death if she reveals her Jewish identity to King Xerxes. The key verse in the book of Esther is Esther 4:14 when Mordecai says, "It may be that you have come to this royal position for such a time as this."
The authors explain that the Hebrew word for "come" in this verse is better translated as, "Who knows but that you were not brought to your royal position because of this?" Mordecai reminds Esther that she did not get to her royal position in the palace except through the grace of God. He challenges Esther to leverage her influence in the palace for the good of her people—which she did, and saved her people from genocide.
This marvelous retelling of the story of Esther and what the imagery of "living in the palace" means for 21st century Christ-followers, is compelling.
Keller and Alsdorf state that whether we realize it or not, all of us in the workplace are "living in the palace." Like Esther, we have personal influence and cultural capital that can bring major social order and nudge people closer to the God of the Universe. Like Esther, the authors urge, once we get to live in the palace, we should not bend every rule to stay there. We should serve for the good of our neighbors. The long-term rewards, peace of mind, and eternal impact will be worth it.
The words of Mordecai centuries ago ring true today, "Who knows but that you were not brought to your royal position (your workplace) because of this?"
Other posts in this series on Every Good Endeavor: