A Childhood Wish for Walkie-Talkies. Over.
Blog / Produced by The High Calling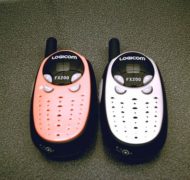 When I was a boy, I wanted walkie-talkies for Christmas. My best friend Johnny and I had a plan. He would stick his antenna out his bedroom window, and I would do the same, and we would be spies together at 10 o'clock at night. We also planned to use the walkie-talkies when we ice-skated to keep in touch as we zoomed up and down the frozen swamps that stretch out in my memory.

I never did receive walkie-talkies. And then I gave a retreat in December at Laity Lodge, and I shared stories about my childhood, about my wife, about my brothers and sisters. We spoke about our parents, and I told the group how much I had wanted walkie-talkies when I was a boy. A week after I returned from Texas, I opened a package delivered by UPS. The retreat group had sent me a warm thank you and the greatest walkie-talkies I had ever seen. I took them outside and became sad.

Johnny died twenty years ago. A tractor-trailer jumped over the highway median and hit his car head on. He would have loved these walkie-talkies. I don't ice-skate any more, and I have no spy partner. You can only be spy partners with your best friend when you are ten.

Not receiving those walkie-talkies when I was a boy made them more fanciful, more exciting than actually having them, and when they became a reality just this past month, they lost their magic.

Each day we imagine what things could be like, and we are often discouraged when they do not match our dreams.

In 1983, I had taught for eight years in a New Jersey high school. My wife and I had been married seven years—we were expecting our second child in July. But enrollment in my high school dropped dramatically, and as the newest member on the English faculty, I lost my job.

When I lost that position, I was offered a job with a media organization in New York City. They wanted to start a children's television program that included books and reading. Because I was involved in producing this program, because I was thinking about books and children, I wrote a little essay about how my father read aloud to me when I was a child and how important that time was for me. I had never written an essay before. I sent it to The Wall Street Journal, and they published the piece. That article lead to an invitation to write for the Reader's Digest. That article lead to my first book with Doubleday. I have been published each year ever since.

After working for one year in New York, my high school invited me back. And so I became, once again, a high school English teacher and a writer. I thought losing my job was the most horrible thing that could happen to me. It turned out to be one of the greatest blessings in my life.

I like so much the story we tell each other about God . . . you know, the one about when we are young: we go to God and say, "Now here is my plan." And God chuckles.

We have no idea why awful things happen to us. Sometimes the explanation becomes clear in time. For some suffering, we will never know the purpose. What we know for certain is the present. How we tend to our sorrow determines the people we become. I miss Johnny. I would love to click on my walkie-talkie and say "Chris to Johnny. Chris to Johnny. Over." And he would laugh on the other end. The walkie-talkies' meaning has passed, but not the subtle memory that still plays on my heart.

Each day we have to let go of the sad things in our lives and embrace, with hope, what lingers. What lingers is the fruit of suffering: wisdom, solace, and reserved acceptance.

Most of the material on The High Calling is available for reuse under a Creative Commons 4.0 license. Unfortunately, work by Chris DeVinck is not available for reuse. If you are interested in reprinting work by Chris DeVinck, please contact him directly.