On the Children's Cancer Ward
Blog / Produced by The High Calling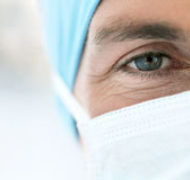 The prognosis was pretty good for our friends' six year old, Samantha. The doctors had found she had a kind of leukemia that goes into remission for long periods and they were hopeful. I had driven to visit her, bringing a wonder box filled with small surprises. But I didn't look forward to walking through a cancer ward filled with children. I stayed in my car listening to the end of a jazz piece, "Mood Indigo." Then I snapped off the radio.

As I looked for room 206, I thought about the parents of these children, how hard it must be for them. And I thought about the children themselves, puzzled as their friends and teachers went on without them at school. It was October, the trees outside of the hospital windows ablaze with color in the dusk. I saw an aide pushing a meal cart down the hall. She turned into one of the rooms and called brightly, "What're you doing, Brady? You playing one of those games again? Are you winning?"

Just before the next corridor, I heard a burst of laughter to my right. I looked into the darkened room. Around the lamp lit desk, three or four women quivered with the kind of inexplicable, helpless mirth that sometimes shook me as a teenager. It's the kind of hysterical, shoulder-quaking giggles that, to my horror, struck me once during graduation and another time at a funeral.
I stopped and stood watching them. They looked like nurses. What right do they have, I thought, laughing like that in this place?

The answer came quickly. They work here. They're the ones who watch the suffering day and night. They are troopers in the line of duty; heroes, at some level, and it must be stressful. Maybe they need to laugh to stay sane.

After my visit with Samantha, I went home, considering how some work requires bravery. I thought about how grateful I am that good people serve like this with all their hearts. And I uttered a prayer of thanks for the nurses on the children's cancer ward.

The Nurses
--for Jean Fergusson

I can hear them in there, laughing,
the nurses on the children's cancer ward,
as I walk through, my heart snagged
on a child in room 206, the boat of my hopes
tipping its freight into the water,
because kids in here are dying,
like trees turning in the fall
so slowly that we have to dwell
on each interval of suffering.

The door opens a slice and I see nurses
leaning into laughter, collapsing,
gripping each other's arms. Their laughter
skates on air, it fills the room up,
it towers above us. I shut the door.

They laugh because grief adheres to them
as desire adheres to beautiful women.
They have to pick it from their fur. They
have to help each other comb it out.
They study jokes as farm girls study
dresses in a catalogue. They balance
on a high beam of laughter, knowing
if they laugh they might come back tomorrow.

Questions for reflection:
How has laughter kept you sane?
We live in a culture where primetime television and online video sites are packed with comedy. Why do you think this is so?
Have you ever laughed in an "inappropriate" place?
Image sourced via Microsoft Clip Art. Used with permission. Post by Jeanne Murray Walker, author of New Tracks, Night Falling.