"Wow!" Customer Service: Community Post
Blog / Produced by The High Calling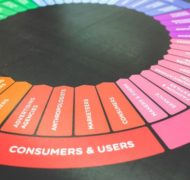 "If someone forces you to go one mile, go with him two miles."
Matthew 5:41
In a recent Truth@Work roundtable, the first part of each meeting was a discussion about outstanding customer service. We had watched a video where Dan Cathy, Chick-fil-A's president, explained their philosophy of providing a $25 experience to patrons paying $6 for a meal. He stated they call this "second mile service," quoting the words of Jesus.
We decided that "Wow!" customer service can be applied to any business and in all areas of life. In fact, many people came to the realization that our true customers are not just those who buy things from us, but all those we interact with on a regular basis--our employees, vendors and even family members.
It all reminded me of a remarkable customer service experience I had recently. Unfortunately, I had the opportunity to receive this service twice in six months, due to some ill-placed stones on the highway which had hit my windshield. In both cases, the windshield was cracked and needed to be replaced. My insurance company suggested I use Safelite to do the repairs.
Here are some of the things I noticed about their business:
They offered to come to my home to fix the car in my driveway.
Once the appointment was scheduled, I received an email from the repair technician (Russell) who would be doing the work. The email included Russell's picture and his cell phone number.
Russell showed up on time and was very courteous.
I asked him if it would be okay if I watched him work. He said that would be fine.
While I observed, I peppered Russell with questions, which he fielded like a pro.
He wore latex gloves to keep fingerprints off the windshield.
He set the new windshield in place with a patented arm the company had developed to ensure a perfect fit.
Though he didn't make a mess, he swept out my car and washed all the windows, not just the windshield.
Wow!
Needless to say, I was very impressed. Safelight's level of service made me feel important.
The fact is that we can all do the same sort of thing in our own lives…it just takes some planning and a little work. If you looked at all the people you interact with as your customers, how can you give them a "Wow!" customer service experience? In other words, how can you show them that they are important to you?
Jim Lange is the president of Five Feet Twenty, an organization that coaches leaders and helps them to be all God made them to be. He also leads monthly Truth@Work roundtable groups. His latest book is Calming the Storm Within: How to Find Peace in this Chaotic World.