Confusing Vocation with Identity
Blog / Produced by The High Calling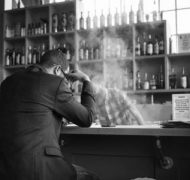 I have been living on devotional snacks lately, thirty minutes here, fifteen there. These times are genuine but barely substantial enough for the demands of daily discipleship. Recently, I raced through ten days crammed with work—four plane trips, two long distance drives, intense networking and research. In all of this there can be a subtle seduction towards finding significance in works.
One morning I woke up in Steamboat Springs, Colorado. After the usual demands of fatherhood (with an intensely morning-sick wife), I finally settled down into some uncluttered time. I pondered … email or communion with God? I began reasoning: "Some of those emails might be really important, related to our future. I could get some work done before everyone else gets up."
Ephesians 2 guided me away from the devotional snack to a doxological feast. "For grace you have been saved through faith … not a result of works. We are created in Christ Jesus for good works which he prepared beforehand that we might walk in them." This seemed to support my inclination to email instead of meditate. I figured that those kingdom-building good works would certainly qualify as works prepared for me in advance, stuff I was created for. But I was subtly putting the cart before the horse, the works before worship.
As I read this familiar passage, I was struck not only by the repudiation of salvation by works, but also of significance by works. We are created for works, predestined works; however, this does not imply that our pre-Christian days were works-free. There were plenty of works—things we did before Jesus to obtain significance—relationships, sports, shopping, work. The crazy thing is that after Jesus we sometimes live pre-Christ and pre-gospel. We still let our works form the basis of our identity.
Significance by works is deadly. When I mistake my vocation for my identity, it's a kind of spiritual suicide. I kill off the new creation in favor of the old. I participate in old ways of thinking about work and identity and jettison the new.
As a pastor, I can subtly replace identity in Christ with my vocation. If I honestly state my heart belief in those moments, it might go something like: "My vocation is pastor and my identity is as pastor." Perhaps your heart belief would be: "My vocation is a professional and my identity is professional." But the gospel tells us: "My vocation is pastor/professional and my identity is disciple." The challenge is not to put vocation before identity. We are disciples first, then pastors and professionals.
God in Christ through the Spirit has given us a new identity, that of a disciple—a Spirit-led follower of Jesus Christ. Because of God's work in us to make us new creatures in Christ, we have a new identity based on acceptance in Jesus, not acceptance by our vocational peers. As a result, we work from our significance and not for it. This is the freest place to find our identity.
______________________________
Jonathan K. Dodson (M.Div, Th.M) is a happy husband to Robie, and proud father to Owen, Ellie and Rosamund. He is the lead pastor of City Life Church and a leader in PlantR and Gospel Centered Discipleship.com. Jonathan is also author of Gospel-Centered Discipleship, Raised? Finding Jesus by Doubting the Resurrection, and The Unbelievable Gospel: Say Something Worth Believing.
Called: The Crisis and Promise of Following Jesus Today
Last month, Mark Labberton, the president of Fuller Seminary and our personal friend published an incredibly important new book, Called. Mark Roberts, primary author of our Daily Reflections, felt so strongly about the book that he commissioned several videos to help bring Labberton's ideas to as many people as possible. Marcus Goodyear, editor of The High Calling, has said plainly, "If you read The High Calling, you must read Mark Labberton's new book."
Featured image by Mary Anne Morgan. Used with Permission. Source via Flickr.