Creativity for the Rest of Us: A Conversation with Jeff Johnson
Blog / Produced by The High Calling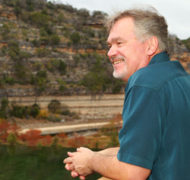 I'm not a naturally creative person. I don't paint. I don't sing. I don't sculpt.
So standing with musician Jeff Johnson overlooking the Frio River in the Texas Hill Country was a little intimidating. His eyes danced with wonder as he surveyed the limestone walls and absorbed the reflections off the emerald green spring waters. I didn't see all he saw, but strangely, I was inspired by his inspiration.
Like an artist who breathes in a subject before touching a brush, or a writer brimming with words but has no paper, Johnson's music is a reflection of a world that resonates God's splendor.
Frio Suite and Watersky are two recent collaborations with legendary guitarist Phil Keaggy. The albums are filled with rich imagery and themes inspired by the storied location, which is also home to Laity Lodge, the retreat center founded by Howard E. Butt, Jr.
You'll also find songs inspired by the Frio River and Laity Lodge on Johnson's Antiphon album. And many of the vocal chants for Journey Prayers were actually recorded at the performing center at the Lodge.
His time in the canyon is helping him create some of his most innovative work that now spans 35 years and 50 albums.
Jeff Johnson has traveled the world, listening to the music that moved the saints. He's sat in historic cathedrals finding inspiration in the musty air of the Ancients. He's been in Billy Graham's home, playing songs for Ruth while she smiled and nodded in admiration. He has sung with the traditional Celtic troupes and surrounded himself with some of the world's best musicians. Still, he's finding new inspiration.
"There's something about the creativity of this place. I don't know what it is, but it's so natural here," he said. "This place has songs floating in the air, and I simply have to reach up and grab them."
Although his career started with tones of pop progressive rock, his music has taken on a more serious note since. Sample any of his 50 albums, recorded and sold through Ark Records, and you'll hear hints of Irish folk, modern pop, jazz, mystical world music, and historical Christmas tunes. He's recorded concept albums based on Stephen Lawhead books, ancient prayers, and iconic figures. All of this variety isn't just to be clever; rather, it's a celebration of the many nuances that good music can absorb.
Johnson's current music is best described as contemplative, but he draws upon rich traditions of the church—chants, bells, and simple melodies from ancient peoples—all deftly splayed on a palette that crosses denominations, traditions, musical styles, and ages.
"It's sacred music. I hope to create a place for people to experience God."
You may have heard his work before and never realized it; he has contributed to a variety of commercial and film work, including an original tune on the movie Gangs of New York. He has had albums distributed by both Sparrow Records and Windham Hill.
Johnson produced an album of original music for Mercedes Benz, titled "Rhythms of the Road." The company included a CD with every new car sold. He once was contacted by a car owner who totaled her Mercedes—with Johnson's CD stuck in the player.
"She was more upset about losing her CD than losing her car." He sent her another copy.
Jeff Johnson's music can take on a reflective tone. If you listen to it, you begin to hear your own thoughts...and perhaps, God's thoughts as well.
"I hear from people who say that they play my music on their commute to work. It puts them at ease, and it's their time with God," he says.
The music Johnson plays is worshipful, but it's also preparation for the hard tasks of life.
"Some folks have said they use my music to go to sleep," he laughs. "But that's a good place. It calms them. For me, hearing the wind blow through the trees calms me. It's all about being aware of the sounds of life. It's about wonder."
A theme woven through the last 35 years of music for Jeff has been wonder. You see it in his titles, you hear it in his lyrics, and you sense it when he talks.
"Music takes us places. But those places aren't always specific," he said. "Wonder and inspiration aren't always easy to define, but we know when we are there."
"It's an impoverished life if you aren't experiencing creativity," he said. "We all need unstructured time where you can realize that life is more than work, more than even learning."
So maybe with a replenishment of wonder, I can learn a little creativity after all.