Better Than Answered Prayer
Daily Reflection / Produced by The High Calling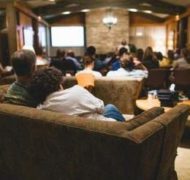 But may all who search for you be filled with joy and gladness in you. May those who love your salvation repeatedly shout, "God is great!"
Psalm 70:4
Psalm 70 is a brief prayer for speedy deliverance. David is being harassed by his enemies, who, according to verse 2, are trying to kill him. So he cries out to the Lord to come quickly and help (70:1).

In the midst of his hurried prayer, David adds a request concerning those who seek God in order to receive his help. "But may all who search for you be filled with joy and gladness in you. May those who love your salvation repeatedly shout, 'God is great!' " (70:4). Here he implies that there is something even better than God's help . . . namely, God! Notice that the first part of verse 4 asks that all who search for the Lord "be filled with joy and gladness in you." We might have expected something like, "May those who search for you be filled with joy and gladness when you help them." But, instead, David focuses upon God and his presence rather than the specific answer to his prayer. Similarly, in the latter part of the verse, the one who receives and even loves God's salvation doesn't say, "Salvation is great!" but, rather, "God is great!"

I'm not suggesting that it isn't wonderful when God answers our prayers, especially those uttered in times of desperate need. But I am noting that, for David, his ultimate longing was not for God's help so much as for God himself. Answered prayer is not the end, but rather the means of being drawn closer to God. Answered prayer reminds us of God's goodness and grace, thus encouraging us to shout "God is great!"

QUESTIONS FOR REFLECTION: When have God's answers to your prayers led you into a deeper relationship with God? Do your times of intercessory prayer become an avenue for you to experience deeper intimacy with God? Why or why not?
PRAYER: O Lord, as you know, most of the time when I pray to you, I'm looking more for answers than for you. And sometimes, to be honest, I rejoice more in the answers when they come than in the one who gave them. Forgive me for the times I take your grace for granted.

Yet there have been other times, Lord, when I have come before you in desperation, needing your help. What I received in those moments wasn't the answers I was seeking, but something so much better. I received the gift of your presence, the assurance that comes from being with you. I have been filled with joy and gladness in you, because of your grace at work in my soul. Thank you, dear Lord, for such marvelous gifts. May my heart be open to receive even more of the same because, you, Lord, are better even than answered prayer. You are the answer to my deepest prayers. Amen.
Image courtesy of Laity Lodge, one of our sister programs in the Foundations for Laity Renewal.