Building for God
Daily Reflection / Produced by The High Calling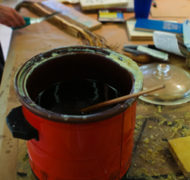 Consequently, you are no longer foreigners and strangers, but fellow citizens with God's people and also members of his household, built on the foundation of the apostles and prophets, with Christ Jesus himself as the chief cornerstone. In him the whole building is joined together and rises to become a holy temple in the Lord. And in him you too are being built together to become a dwelling in which God lives by his Spirit.
Ephesians 2:19-22
As you may know, I was Senior Pastor of Irvine Presbyterian Church in Southern California from 1991 through 2007. In my first years as pastor of this fine church, I had the privilege of being deeply involved in the building of a sanctuary. When I started as pastor, we were worshiping in what was supposed to be the fellowship hall. Plans had been afoot for several years to build a structure dedicated to worship.

In 1996, we completed the building of our Sanctuary and Activity Center. Yet, even though we had done two capital campaigns to get us to this point, we still had a considerable debt to retire. So, we commenced another effort to encourage our members to contribute above and beyond their regular giving. The theme of our third capital campaign was "Building for God."

That theme had an obvious sense: we had been building for God, constructing a sanctuary, a physical building for God. Yet, we chose this theme to underscore a deeper theological truth: We are a building for God. We exist as a church by God's grace and for God's glory.

The theological foundation for "Building for God" came from Ephesians 2:21-22, among other biblical passages. In verse 21, the collection of all Christians in the cosmos is described as a "whole building ... a holy temple in the Lord." Verse 22 applies this to the specific Christians who read Paul's letter, "And in him you too are being built together to become a dwelling in which God lives by his Spirit."

Wherever there are people who have received God's grace through faith, they are meant to be connected deeply to each other, like bricks in a building. So that this will happen, not just in principle, but in real life, God is at work among us, building us into his own dwelling.

This stirring truth leads me to ask several questions of myself. Let me encourage you to join me as we reflect on this passage of God's Word and its implications for our lives.

QUESTIONS FOR FURTHER REFLECTION: Do I think of my Christian community as a "building for God"? Why or why not? Am I allowing God to build his church with me as a vital part? How do I experience the Spirit of God in the fellowship of my church?
PRAYER: Thank you, gracious God, for the privilege of being part of your building, your dwelling, your temple. Today, I offer myself to you, so that you might put me exactly where you want me to be, so that I might contribute to the building of your home on earth. I pray for my home church, that we might truly live as your dwelling in the world. Amen.

P.S. from Mark: If you'd like to see photos of the sanctuary at Irvine Presbyterian Church, you can find them here.
Image courtesy of Laity Lodge, one of our sister programs in the Foundations for Laity Renewal.