Give Your Bodies to God
Daily Reflection / Produced by The High Calling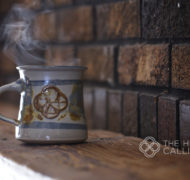 And so, dear brothers and sisters, I plead with you to give your bodies to God because of all he has done for you. Let them be a living and holy sacrifice—the kind he will find acceptable. This is truly the way to worship him.
Romans 12:1
My last two reflections have focused on Romans 12:1. I want to stay with this verse for a couple more days because it overflows with truth we need if we're to experience the "high calling" of the Christian life.

We might be surprised by the exhortation of Romans 12:1 to give our bodies to God as "a living and holy sacrifice." Often we tend to think that what really matters in life is the "spiritual," which we conceive of as interior and nonphysical. But Romans 12:1, echoing the rest of the Bible, calls us to give, not just our inner selves, but our whole selves to God, including our bodies.

How do we offer our bodies to God as a sacrifice? The word "living" makes it clear that we are not talking about human sacrifice here, at least not in the ordinary sense. To be sure, part of giving our bodies to God includes not doing that which dishonors our bodies (see 1 Cor 6, for example). But giving our bodies to God entails much more than abstaining from the sins of the flesh. We are to offer our bodies by living each day for God. Everything we do, including our work, broadly defined, is part of our sacrifice to God. What we find in Romans 12:1 could well be labeled "the high calling of our daily lives." After all, it is through our bodies that we speak, write, listen, type, dig, plant, paint, embrace, and kiss. Our bodies are the means through which we make a difference in this world, a difference for God and his kingdom.

QUESTIONS FOR REFLECTION: Do you think of your body as an instrument for glorifying God? How do you, in fact, offer your body to God as a living sacrifice? How might this verse change the way you think and live?
PRAYER: Gracious God, today I thank you for my body. I must confess that I take for granted the ways you have blessed me in my body, focusing instead on its limitations, pains, and failures. Yet my body is a gift of inestimable value. So I give you thanks for this physical center of my life.

O Lord, may I recognize that my body finds its true and whole purpose when it is given to you. May I offer my body to you as a living sacrifice, devoting my whole self to you and your purposes. As I do, may I abstain from all that dishonors, weakens, or distresses my body. May I care for my flesh so that it might be fit for your service. And then, may I give my body to you each day, serving you with all that I am in every situation. Use me, Lord, for your kingdom's purpose. Amen.