Giving to God from the Heart
Daily Reflection / Produced by The High Calling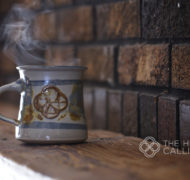 "Tell the people of Israel to bring me their sacred offerings. Accept the contributions from all whose hearts are moved to offer them."
Exodus 25:2
In Exodus 25, the Lord begins to reveal his plans for the Tabernacle and its contents. These will be specific plans that include lavish, exquisite decorations of fine metals, rare jewels, and other costly items.

This material will be gathered from the Israelites, as we would expect. But we might not anticipate the specific directions given by the Lord for the collection of such valuable items. They are to be contributions from the people, yet given "from all whose hearts are moved to offer them" (25:2). Although the Lord surely had the authority to compel the people to give what he needed, he chose instead to allow the people to give freely. Only those who wished to contribute to the building and adornment of the Tabernacle would be expected to give.

Thus we are reminded today of what truly pleases God. Yes, he expects us to contribute financially to the work of his kingdom. Yes, we are to live our lives as his masterpieces, doing the good works for which we have been created (Eph. 2:10). Yet God is not honored primarily in what we give or do. Rather, he looks upon our hearts, seeing our motivations and desires. God is not impressed by the size of our gift or the breadth of our impact. Rather, he seeks our heartfelt devotion to him most of all. Every other act of giving follows from this core commitment to the Lord.

QUESTIONS FOR REFLECTION: When has your heart been moved to contribute to God's work? What motivated you? Is it easy or hard for you to give to the ministry of God's kingdom? Why?
PRAYER: Dear Lord, today I'm reminded that you're not impressed by my offerings to you if they're not a reflection of my heart. Yes, you have chosen to use my financial contributions and my work for the sake of your kingdom. Yet you are honored, not just in the things I give or do, but most of all in my heart's desire for you and commitment to you.

O Lord, by your Spirit, refresh my zeal for you. Stir in me that I might serve you with all my heart. May I give generously, both of my possessions and of my energy, for your sake because I love you. Amen.