God's Glory
Daily Reflection / Produced by The High Calling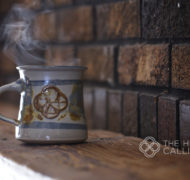 "All your people will be righteous. They will possess their land forever, for I will plant them there with my own hands in order to bring myself glory."
Isaiah 60:21
In Isaiah 60, the Lord promises to restore Israel in order to bring glory to himself. When we hear this, it can seem odd at first. After all, if you were to seek your own glory, we might accuse you of being narcissistic. We learn early in life never to say anything like, "I did this in order to bring glory to myself."

But what is inappropriate for us is absolutely right for God. Because he is utterly glorious, it is always right for his glory to be celebrated. Moreover, when we respond to God by recognizing his glory, we ourselves are enriched. We find our rightful place in the cosmos.

The Westminster Shorter Catechism asks about our chief purpose as human beings. It answers that our "chief end" is "to glorify God and enjoy him forever." How does this happen? Surely we glorify God and enjoy him when we gather with his people for God-focused worship. But that's just the beginning. We glorify God and enjoy him when we fulfill our divine purpose, serving him in the world. God is glorified just as much when you seek to honor him in your work as when you sing praises to him in church.

In this Christmas season, we remember the announcement of the angels, "Glory to God in the highest." May our remembrance encourage us to live for God's glory each day, in every avenue of life.

QUESTIONS FOR REFLECTION: When you think of glorifying God, what images or activities come to mind? How can you glorify God today?
PRAYER: O Lord, you have saved me to be one of your children so that I might live for the praise of your glory. Indeed, my chief purpose in life is to glorify you and enjoy you forever.

May this be true of my life! May I glorify you in my words and deeds, in my dreams and daydreams. May I live for your glory whether I'm in a worship service or at a ballgame. Be glorified, dear Lord, through me, each and every day. Amen.