God's TLC
Daily Reflection / Produced by The High Calling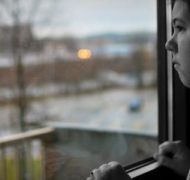 "Then a great and powerful wind tore the mountains apart…but the Lord was not in the wind. …After the earthquake came a fire, but the Lord was not in the fire. And after the fire came a gentle whisper."
1 Kings 19:11
Sometimes you run out of words.

You don't know what to say and God feels far away.

Even though you know you ought to, praying feels like another check box that leaves you feeling guilty.

Life is complicated. In an age of information a Google search away, with friends on Facebook full of photos and updates, we can feel small.

We look at our everyday lives, overwhelmed with dilemmas, conflicting desires and needs, and we feel discouraged.

Ironically, when we're most stressed, we often deprive ourselves of what we need most: God's goodness. Somehow, we've learned we deserve rest after we solve our problems.

It's the opposite.

We need God's TLC (his tender, loving care), and we experience it by enjoying rest. Unconditionally.

TLC is what God gave to Elijah to resuscitate his soul after Elijah's spirit had been broken. Elijah had done everything he knew to do—even defeating the prophets of Baal—and yet, his problems did not go away.

Stress broke Elijah's spirit.

"It is enough; now, Lord, take my life,
for I am not better than my fathers" 1Kings 19:4.

In that place of despair, Elijah woke up to find fresh bread baking on hot stones and water—left just for him.

Warm bread. Water poured into a jar. Beautiful care, expressed through hand-made touches.

Not only that. God sent an angel, to touch him.

Elijah was so exhausted, God sent the angel a second time, to touch him. Again.

When we take time out to receive TLC, we give God the chance to touch our heart.

To eat warm bread. To drink. To sip without hurrying. To sit beneath a tree and allow ourself to feel tired.

When we give our body the break it longs for, we hear God's whisper to us. The angel said to Elijah that day, "Arise and eat. For the journey is too great for you" 1Kings 19:7.

It's time to give ourselves permission to receive the TLC we need.

You're loved. You're worth it.

QUESTIONS FOR FURTHER REFLECTION: When was the last time you found yourself physically overwhelmed by the demands of a stressful season of change? What feels most restful for you right now? Give yourself permission to say yes by withdrawing and saying no to others. What would happen if you received the rest God longs to give you?
A Prayer: Dear Jesus, the journey is too great. I'm stressed. I need your touch. Help me to receive your TLC. Help me be brave enough to rest. Amen.
______________________________
Thriving Through Stress
Stress is an inevitability of the 21st century, and opportunities abound for simplifying our lives and changing our circumstances. But for most of us, the better change comes from within. As we deal with the stress in our lives, are we just trying to manage all the variables, mitigate the damage, and survive? Or is there actually a way to thrive through stress? Join us at The High Calling for a series that explores how our faith in Jesus and the resilience that develops through difficulties can help us thrive even in difficult circumstances beyond our control.

Image above by Morgan. Used with Permission. Via Flickr.