Grace and Peace
Daily Reflection / Produced by The High Calling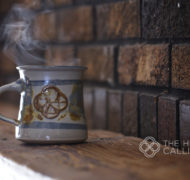 May God our Father and the Lord Jesus Christ give you grace and peace.
1 Corinthians 1:3
1 Corinthians 1:3 is one of those verses in Scripture that we tend to skim because the language is so familiar. Indeed, the Apostle Paul begins most of his letters with a "wish-prayer" that the recipients receive God's "grace and peace" (see, for example, Rom. 1:7). But I would like to suggest that we should pay close attention to 1 Corinthians 1:3 because it focuses on two of the greatest features of the Christian life.

Grace is unmerited, undeserved favor. It is getting something you don't deserve. If you earn something, then, by definition, it isn't grace. God's grace is the foundation of the Christian life. By grace we have been justified and saved (Rom. 3:24; Eph. 2:8). By grace, we are called and empowered to serve the Lord (Gal. 1:15; 1 Cor. 15:10; Eph. 4:7). By grace, we have confidence and freedom to approach God (Heb 4.:16). When we fail to live according to God's standards, we are forgiven through the riches of God's grace (Eph. 1:7).

Peace, in biblical perspective, includes the absence of conflict, but is much, much more. The biblical notion of peace is embedded in the Hebrew word shalom, which connotes a situation in which all is well. Not only is there no discord, but also justice reigns in all relationships. Peace describes life as God intended it to be. When we put our faith in Jesus Christ, we have peace with God. This peace begins to touch every other relationship. Thus, the peace of God impacts our families, our friendships, our workplaces, our neighborhoods, our churches, our towns, and ultimately our whole world. Having received the gift of God's peace, we become peacemakers, inviting people to know God and to live in his multidimensional peace (see Matt. 5:9).

When I think about what grace and peace are, I realize just how much I need to experience them each day. But I will not be more gracious and peaceful by my own efforts. Rather, they are gifts that come from "God our Father and the Lord Jesus Christ" (1 Cor. 1:3). I need to receive these gifts today. Don't you?

QUESTIONS FOR REFLECTION: How have you experienced God's grace in your life? Where do you need more grace today? How have you experienced God's peace in your life? Where do you need more peace today?
PRAYER: O God our Father, how easy it is to take your grace and peace for granted. I must confess that I can race through 1 Corinthians 1:3 without considering just how much this verse offers to me. Forgive me, Lord!

Help me to receive your grace today in a new way. May I live with the confidence and joy that come from knowing I have been saved by grace. Then, may I give grace to others, just as you have given to me. May I be quick to encourage, to forgive, and to love those around me . . . by grace.

Help me to live in your peace today. How thankful I am, Lord, to have peace with you. May this peace touch every one of my relationships. May I be a peacemaker at work and at home. Let me make peace with my words and my deeds.

All praise be to you, O God, the giver of grace and peace! Amen.