Best of Daily Reflections: How Can We Live the Best Kind of Life?
Daily Reflection / Produced by The High Calling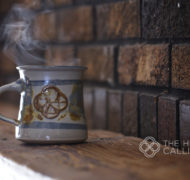 ...and I will give you my spirit so that you may walk according to my regulations and carefully observe my case laws.
Ezekiel 36:27
I want to live the best kind of life. I want to make my life count. I don't want to waste my life, living for transient and silly things. I want to live for what really matters.

My desire to live significantly is even stronger these days since I recently turned 55. By most measures, I am now a full-fledged senior citizen. This means, among other things, that I now get a senior discount at Denny's, Dairy Queen, and Dunkin' Donuts. (Of course I'll be careful not to overuse this discount in order to maximize the number of years I can use it!) More seriously, though, becoming 55 reminds me that I have only so much time left on this earth, and that I want to use it well.

One approach to living well emphasizes following the rules. Life is governed by an elaborate list of dos and don'ts. If we do the right things and avoid the wrong things, then we'll live the best kind of life. Sometimes Christians are tempted to think of life in these terms. We fall into a legalism that promises the best kind of life, but cannot deliver on its promise.

This is not to say, however, that rules don't matter, especially God's rules. It is right to love your neighbor and wrong to hate your neighbor. And, if you seek to love and to avoid hate, you will experience a better sort of life. But no matter how hard you try to love and not hate, you'll find that you simply cannot follow the rules consistently.

God offers a different approach to living. He says, "I will give you my spirit so that you can walk according to my regulations and carefully observe my case laws" (36:27). In other words, God will help us to live in the best kind of way. We will, in fact, follow his rules, not because we approach life legalistically, but because his Spirit guides and directs us. Moreover, the Spirit will lead us to do that which we would never have considered possible and will empower us for contributing to God's work in the world. Whether we're at work or in school, whether we're meeting with our colleagues or hanging out with friends, the Spirit of God will be at work in and through us, guiding us, inspiring us, empowering us, and, therefore, helping us to live the best kind of life.

QUESTIONS FOR FURTHER REFLECTION: Are you ever tempted to approach life from a legalistic point of view? Why? How is this working for you? In what ways have you experienced the presence and power of the Holy Spirit?
PRAYER: Gracious God, I want to live the best kind of life. I know that following your commandments will always be the best for me. Thus, it is tempting for me to turn my life into a game of dos and don'ts. Yet, this approach to living always falls short because I am unable to follow through.

How much I need your help, Lord! And how much help you give me! Thank you for the gift of your Spirit. Thank you for dwelling within me, for healing, renewing, and empowering me. Thank you for leading me in your paths. Help me, Lord, to walk at all times in your Spirit. May I be attentive to you and your direction, so that I might live for your purposes and glory. Amen.