How Do We Receive Salvation by Grace?
Daily Reflection / Produced by The High Calling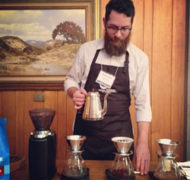 For it is by grace you have been saved, through faith—and this is not from yourselves, it is the gift of God—not by works, so that no one can boast. For we are God's handiwork, created in Christ Jesus to do good works, which God prepared in advance for us to do.
Ephesians 2:10
If salvation comes by grace, it wouldn't make much sense for God to foist it upon us. Some theological positions argue for this sort of foisting, claiming that God must save every person and that no person has the power to resist. But, if you think about it, that would not be particularly gracious on God's part. If I want you to taste my favorite ice cream, but you refuse, it would not be kind for me to force a spoonful into your mouth, would it?

So, though we do not earn our salvation, we do receive it as a gift. We don't stick out our hands and literally take the gift of salvation as if it were a birthday present, however. Rather, Ephesians 2:8 says that we receive salvation by grace "through faith." Through faith, we unwrap the gift of salvation by grace, so to speak.

Notice that we are not saved by our faith. Years ago, that's what I believed. I know this because I once wrote a note in my Bible, right near Ephesians 2:8, which read: "Saved by faith." I now understand that my sixteen-year-old self was not reading carefully enough. The text says we are saved "by grace ... through faith."

In the next few days, we will look closely at what this means. For now, I invite you to reflect on this text and your own experience, to begin to dig deeper into the relationship of grace, faith, and salvation in your own life. As you do, consider the following questions.

QUESTIONS FOR FURTHER REFLECTION: How do you understand the relationship of grace, faith, and salvation theologically? How have you experienced this relationship in your own life? What difference does it make that we are saved "by grace through faith," rather than "by faith"?
PRAYER: Once again, dear Lord, I thank you for saving me by your grace. I'm glad—eternally glad—that my salvation is not a primary result of my faith, even though my faith does matter. Help me, I pray, to grow in my understanding of the relationship between grace, faith, and salvation. Help me also to grow in my faith, to trust you more fully and more freely.

All praise and honor be to you, Gracious Savior. Amen.

Image courtesy of Laity Lodge, one of our sister programs in the Foundations for Laity Renewal.