How Do You Envision the Glory of God?
Daily Reflection / Produced by The High Calling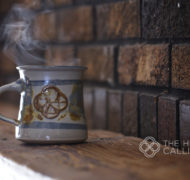 Then he led me to the East Gate, where the glory of Israel's God was coming in from the east. Its sound was like the sound of a mighty flood, and the earth was lit up with his glory.
Ezekiel 43:2
I've been a Christian for almost half a century. I've sat through hundreds of sermons and delivered hundreds of my own. I've sung hymns and worship songs thousands of times. Throughout all of this, God's glory is a frequent theme. We speak and sing of God's glory. We promise to glorify God's name. Glory, glory, glory!

But what is God's glory? What are we preaching and singing about?

I have always made a connection between God's glory and bright light. Indeed, glory and luminosity are frequently joined in Scripture. We see this, for example, in Ezekiel 43:2. When God draws near, "the earth was lit up with his glory."

Yet this passage also describes God's glory in an unexpected way: "Its sound was like the sound of a mighty flood." So, God's glory was overwhelming both in brightness and in volume. It was so impressive, so inspiring, and so fearsome that Ezekiel fell on his face (43:3).

I try to imagine what this must have been like. I can remember hearing thunderous sounds, literal thunder in Texas, for example. And I can think of dazzling light, such as sunsets over the Pacific Ocean. But my experience falls short when it comes to combining these.

Friends of mine have described something that may come close to Ezekiel's experience of God's glory. I'm thinking of how they talk about witnessing the launch of the space shuttle. They speak of brilliant light and ear-splitting sound. To my knowledge, they did not fall on their faces, however.

The vision of Ezekiel reminds us that God is not some safe, passive being. God's glory is not like the glow of a lava lamp. Nor does it sit there to be admired safely. Rather, when God is present, the world is filled and transformed. The glory of God overwhelms us, dwarfs us, and propels us to our knees in humble worship.

QUESTIONS FOR FURTHER REFLECTION: What comes to your mind when you think of God's glory? How might your life be different if you were to have an experience like that of Ezekiel? When have you sensed God's glory most powerfully in your life?
PRAYER: O God, I can talk about your glory. I can read about it. I can imagine what it might be like. But, in truth, I have so little experience of your true glory. As I read Ezekiel 43, I yearn for a vision like that of Ezekiel. I would like to have my sense of your glory expanded, even exploded.

Help me, dear Lord, to be open to new experiences and deeper understanding of your glory. May I realize in new ways just how brilliant, powerful, and awe-inspiring you are. May my life be transformed as I encounter you in new ways. And may I live, indeed, for your glory. Amen.