The Incomprehensible Riches of Christ
Daily Reflection / Produced by The High Calling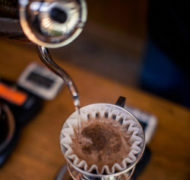 Although I am less than the least of all the Lord's people, this grace was given me: to preach to the Gentiles the boundless riches of Christ.
Ephesians 3:
In our translation, Ephesians 3:8 refers to "the boundless riches of Christ." The original Greek adjective, translated here as "boundless," is an unusual word (anexichniastos). It means, literally, that which cannot be measured, counted, or comprehended. It suggests that, no matter how deep we go in our understanding of Christ's riches, we will never get to the bottom.

What would it be like to have incomprehensible riches, riches so vast they were virtually uncountable? Bill Gates could come close to answering this question. According to Forbes' latest estimate, he is worth $67 billion. By my reckoning, if he were to pile up his fortune in dollar bills, and if he were to count each bill, one second at a time, it would take Bill Gates 2,124 years to tally the whole pile. That's getting pretty close to incomprehensible, don't you think?

In what sense are the riches of Christ incomprehensible? Earlier in Ephesians, Paul has used similar imagery. He refers to our being forgiven "in accordance with the riches of God's grace that he lavished on us" (1:7-8; see also 2:18). In 2:4, we read that God is "rich in mercy." Then, in 2:7, God raised us with Christ "in order that he might show the incomparable riches of his grace." Though we would not want to limit the riches of Christ only to certain qualities, it does seem that this language is associated in Ephesians with God's grace and mercy "lavished on us." The phrase "boundless riches of Christ" reminds us that God's grace and mercy do not stand alone as theological concepts or impersonal powers. Rather, they are centered and embodied in Jesus Christ.

Because Christ is rich beyond comprehension or measurement, we can have confidence that he has more than enough grace for us. No matter what we have done or left undone, when we turn to Christ, he is always there for us, always merciful, always gracious, always forgiving.

QUESTIONS FOR FURTHER REFLECTION: How do you envision the riches of Christ? What difference would it make in your life today if you truly believed that Christ's grace and mercy are rich beyond measure?
PRAYER:

He giveth more grace as our burdens grow greater,
He sendeth more strength as our labors increase;
To added afflictions He addeth His mercy,
To multiplied trials He multiplies peace.

When we have exhausted our store of endurance,
When our strength has failed ere the day is half done,
When we reach the end of our hoarded resources
Our Father's full giving is only begun.

Fear not that thy need shall exceed His provision,
Our God ever yearns His resources to share;
Lean hard on the arm everlasting, availing;
The Father both thee and thy load will upbear.

Refrain:

His love has no limits, His grace has no measure,
His power no boundary known unto men;
For out of His infinite riches in Jesus
He giveth, and giveth, and giveth again. Amen.

"He Giveth More Grace" by Annie Johnson Flint. Public domain.
Image courtesy of Laity Lodge, one of our sister programs in the Foundations for Laity Renewal.