Keep on Praying
Daily Reflection / Produced by The High Calling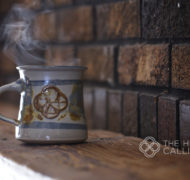 "Keep on asking, and you will receive what you ask for. Keep on seeking, and you will find. Keep on knocking, and the door will be opened to you."
Matthew 7:7
The New Living Translation of Matthew 7:7 adds "keep on" to the more common trio of imperatives (ask, seek, knock). This is not a creative paraphrase, however. If anything, it is a literal rendering of the underlying Greek verbs, which are present imperatives. The present imperative in Greek entails a sense of ongoing action, rather than a singular event. Jesus is not saying "Pray once and that's it." Rather, he is teaching us to pray, and to keep on praying. This is a call to persistent prayer.

Why should we continue praying, especially in times when it seems as if God is not even hearing us? (All Christians go through times like these.) In part, we pray and keep on praying in sheer obedience to Jesus. But he also gives us a series of promises. If we keep on asking, we will receive. If we keep on seeking, we will find. And if we keep on knocking, the door will be opened.

Yet it isn't our perseverance in prayer that accounts for the answers. In the next paragraph of Matthew, Jesus explains that God answers prayer because he is our Heavenly Father who loves to give good gifts to his children (vv. 9-11).

QUESTIONS FOR REFLECTION: Do you pray and keep on praying? What makes it hard to be persistent in prayer? What helps you to pray?
PRAYER: Gracious Lord, thank you for this encouragement to pray. I need this today! I don't find it hard to bring my needs and concerns before you. But persistence in prayer can be a challenge. After a few times of praying for something, I can lose heart. Honestly, it's hard to keep on praying when it seems as if you aren't even listening.

Thank you for the promise that the one who asks and keeps on asking will receive. Though I realize prayer isn't a simple equation, whereby I get exactly what I want, I hold tightly to the promise that you will answer me when I pray. Your answers may be surprising. But they will come in time.

So help me, Lord, to pray and keep on praying. Amen.