Led by the Spirit
Daily Reflection / Produced by The High Calling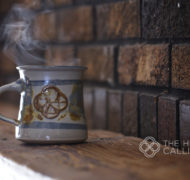 For all who are led by the Spirit of God are children of God.
Romans 8:14
This verse reflects an image from the Old Testament. In Exodus, the Lord delivered the children of God from Egypt, and then led them through the wilderness by a pillar of cloud during the daytime and a pillar of fire at night.

We are like the Israelites of old, even though the details are different. We have been set free, not from Egypt, but from sin and death. We who are God's children because of faith are led, not by visible means, but by the Spirit who dwells within us.

Romans 8:14 underscores two bedrock truths of our faith. First, we are led by the Spirit of God. If we open our minds and hearts to the Lord's leading, if we attend to him through his Word, if we listen to the inspired utterances of our Christian community, then the Holy Spirit will lead us, helping us to live life to the fullest in service of God. Second, we are children of God. We have been adopted into God's family. We have a place in the covenant community. Thus we have access to a God who loves us dearly. In his love, we discover who we truly are. Because of his love we are empowered to love others.

QUESTIONS FOR REFLECTION: When have you been led by the Spirit of God? How does the Spirit lead you? What helps you to attend more sensitively to the Spirit's guidance?
PRAYER: Gracious Lord, into this short verse are packed two truths that have changed my life, and that continue to transform me. How grateful I am for the guidance of your Spirit! Thank you for all the times you have led me in this life. Sometimes I wish your direction came by pillars of cloud and fire. They would be so much easier to follow! But the still, small voice of your Spirit is there for me if I'm willing to listen. Help me, Lord, to quiet down enough to listen to you. May I attend to your Spirit's guidance as I meditate upon your Word, as I pray, as I gather with folks from church, and as I live my life each day. Teach me to listen more carefully and to obey more faithfully.

How I thank you, Lord, that I am your child. What a joy and privilege to call you my Father! How good it is to know that I belong to you for eternity, that I am loved and accepted into your family. May I live as your beloved child today. And may I share your love with others in every sphere of life. Amen.