Saved For Good Works Not By Good Works
Daily Reflection / Produced by The High Calling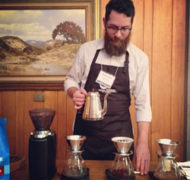 For it is by grace you have been saved, through faith—and this is not from yourselves, it is the gift of God— not by works, so that no one can boast. For we are God's handiwork, created in Christ Jesus to do good works, which God prepared in advance for us to do.
Ephesians 2:10
In yesterday's reflection, we considered the first phrase of Ephesians 2:10: "For we are God's handiwork." Today, we will reflect upon some of the implications of this extraordinary truth.
The rest of verse 10 elaborates on the first phrase: "For we are God's handiwork, created in Christ Jesus to do good works, which God prepared in advance for us to do." At first, what we read here might disconcert us. Hasn't Paul gone to great lengths to emphasize that our salvation is not by works? Why is he saying here that we have been created in Christ to do good works?
It's crucial that we read this verse in context. Yes, our salvation does come by grace received through faith. It is "not by works, so that no one can boast" (2:9). We do not earn our salvation through anything we do. Clearly, salvation does not come from good works.
But this does not mean that good works don't matter or are unrelated to salvation. In fact, as this passage makes abundantly clear, salvation and good works are closely connected. Good works do not earn salvation, but they do follow salvation. To put it differently, we are not saved by good works, but for good works.
Salvation, as you might remember, is not simply a ticket to heaven after death. Rather, it is being brought from death to life by the love and grace of God, communicated through Jesus Christ. When we are saved into new life, we begin to live now, on this earth, in an altogether different way. At least that's God's plan for us. We can also truncate his salvation and continue to live a deathly existence. But God has other things in store for us as his masterpiece. He has good works for us to do, works that contribute to his restoration of the world, works that build up rather than break down, works that fulfill us and make our lives meaningful.
In tomorrow's reflection, we'll consider further the nature of these good works. For now, let me urge you to consider the following questions:
QUESTIONS FOR FURTHER REFLECTION: How do you respond to the truth that God has good works for you to do as his handiwork? How do you think about these good works? What are some of the good works God has in store for you today?
PRAYER: Gracious God, when I think of the fact that you have good works for me to do today, at first I feel grateful. Thank you for the including me in your work in the world. Thank you for allowing me to invest myself, my time, my energy, my gifts, my passion . . . all for you and your purposes.
Help me, Lord, to see my life today from the perspective of Ephesians 2:10. Help me to offer all that I do to you as good works for your glory. Make me attentive to good works I am not expecting. Let your Spirit guide me, encourage me, and use me.
All praise, glory, and power be to you, O God. Amen.
Image courtesy of Laity Lodge, one of our sister programs in the Foundations for Laity Renewal.