Suddenly!
Daily Reflection / Produced by The High Calling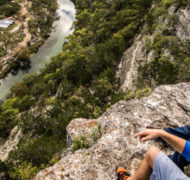 Suddenly, a man in the synagogue who was possessed by an evil spirit began shouting.
Mark 1:23
In the Greek original of the first chapter of Mark's Gospel, the word euthus appears twelve times. This word, a favorite of Mark, who uses it forty-two times in his Gospel, appears as often in Mark 1 as in all the other Gospels combined (Matthew-6; Luke-3; John-3). Talk about emphasis! Mark is hammering home the point that the beginning of Jesus' ministry is happening euthus.

But what does this mean? If you were to look up euthus in a Greek-English lexicon, you'd find meanings such as "immediately" and "suddenly." Mark's unusual repetition of euthus is meant to convey a sense of urgency, vitality, and fast-paced activity. In Jesus, the kingdom of God has drawn near and things are popping! For Israel, the centuries of waiting are over. God is on the move ... suddenly! And people are responding ... suddenly! Even the demons are getting into the act ... suddenly!

The sense of urgency in Mark 1 does not require us to start rushing around in response to the Good News of the reign of God. If anything, some of us need to slow down and spend more time with God rather than always doing for God. Nevertheless, reading Mark 1 attentively should increase our excitement for God's work among us. The Christian life isn't a matter simply of waiting around for the Second Coming or preparing for heaven. Rather, it is joining God in the exciting, compelling, transforming work of his kingdom. When we see what God is doing, we won't want to be left out.

QUESTIONS FOR REFLECTION: In what ways are you participating in the kingdom of God in your life? What keeps you on the sidelines of the kingdom? What helps you to get into the game?
PRAYER: Dear Lord, help me to see what you're doing in this world so that I might get into your work. Keep me from complacency or, worse yet, boredom. Rather, may I be excited about the work of your kingdom, and may I get involved with you.

O Lord, do in my life that which is unexpected! Stir me up, Lord, so that I might serve you with enthusiasm and commitment. Amen.

Image courtesy of Laity Lodge, one of our sister programs in the Foundations for Laity Renewal.