Touching and Tasting
Daily Reflection / Produced by The High Calling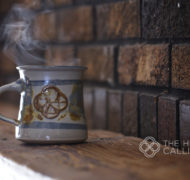 On the night when he was betrayed, the Lord Jesus took some bread and gave thanks to God for it. Then he broke it in pieces and said, "This is my body, which is given for you. Do this to remember me." In the same way, he took the cup of wine . . .
1 Corinthians 11:23-25
In yesterday's reflection, we focused on the remembering aspect of the Lord's Supper. When we receive the bread and the cup, we are to do so "in remembrance" of Jesus. This is a time to bring to mind Jesus' death and its significance.

But why, I wonder, did Jesus choose the elements of bread and wine to signify his sacrifice? Why did he instruct us to remember him when we're eating bread and drinking from the cup? Surely we can remember Jesus without these elements. As I sit at my computer right now, I am, indeed, thinking of the death of Jesus, but bread and wine are nowhere in sight. So, why do the elements matter?

In the context of the Last Supper, Jesus used elements that were part of the Passover feast. Growing up in a faithful Jewish family, Jesus had learned to associate the Passover meal with the memory of God's deliverance of the Jews from Egypt. No doubt, this Jewish tradition was part of what inspired Jesus to choose bread and wine to signify his death, that which would bring deliverance from sin.

In the ancient world, religious ceremonies often involved eating. In fact, as we noted when examining 1 Corinthians 8-10, the worship of idols was often associated with eating meat, a delicacy in the ancient world that was usually reserved only for the wealthy. Jesus, however, did not choose fancy food to point to his death. Bread and wine were the most common of foods, something that even poor people could afford. They were the staples of everyday life in the time of Jesus. Was Jesus, by choosing such simple foods, suggesting that we should remember his death every time we eat?

I have often been impressed by the power of touch and taste in the Lord's Supper. Though I can remember Jesus without external props, there is something about feeling a piece of bread in my hand and tasting a sip of wine or juice in my mouth that energizes my memory. It takes what could be merely theoretical and brings it down to earth. There is something incarnational about the elements of the Lord's Supper, something that helps us to have communion with the Lord who was both God and human, the Word of God who became flesh for us and our salvation.

QUESTIONS FOR REFLECTION: How do the elements of the Lord's Supper help you to remember Jesus? What difference would it make, do you think, if Jesus had chosen fancier foods for us to remember him?
PRAYER: Dear Lord, how I thank you for your sacrificial death, for giving your life so that I might live. There is no greater gift in all of history and all the universe. Praise be to you!

I thank you for helping me to experience this gift, not only through the inner working of your Spirit, and not only through the power of preaching, and not only through my ability to remember, but also through the very tangible, simple elements of bread and wine. Through touching and tasting, I am able to remember you more vividly and faithfully. Indeed, in your Supper, I am able to "taste and see" that you are good . . . and how good you are!

All praise be to you, O Lord, for your saving death, and for helping us to remember you! Amen.